---
Trying to accommodate the needs of your skin when we shift from the warmer to cooler months can be challenging for even those with the most balanced skin. Enter beauty essences, an effective way to introduce more hydration into your skincare routine and keep your skin glowing to its best ability this winter.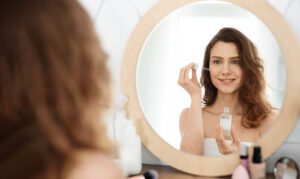 WHAT ARE BEAUTY ESSENCES?
Also known as facial essences, are the skincare boost you definitely need in your beauty bag in the upcoming colder and drier months. It's a product which has a texture similar to serum but with a lighter consistency and using it near the beginning of your skincare routine means the other products you use can sink deeper into your skin.
WHAT DO THEY DO?
Recommended for those looking to step up your skincare a notch or add a much-needed extra hydration boost. Beauty essences deeply hydrate your skin without being heavy or clogging your pores in between the other steps of your skincare routine.
HOW SHOULD YOU USE THEM?
Vogue recommends that you use beauty essences after toner but before serum as they make the rest of your skincare routine absorb more smoothly into your skin. To use, pump several pumps into your hands and pat gently over your skin.
---