---
Take your landscaping a step further by giving it an edible twist. A boost for your palate as well as Mother Nature's, this flavourful endeavour will brighten up any space. Here are Metropol's tips to incorporate edible plants into shaping your outdoor spaces.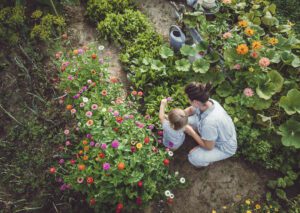 SPICE IT UP
Herbs don't just give any recipe an edge – they can give your garden beds one, too. Lavender looks lovely lining any garden or path, and onions, garlic and chives can be planted as edging to protect other edibles from hungry birds and animals.
FRUTTI TUTTI
Fruit trees look stunning in every landscape. Supposedly nothing tastes better than the fruits of your labour, but just make sure you monitor excess fruit to keep hungry rodents and possums at bay. We especially love the look of an immaculately groomed citrus tree – and not just for the G&Ts.
ZEALOUS TRELLIS
If you're using trellis to adorn a wall or to create a pergola or space divider, add interest and function with tasty additions. Runner beans and nasturtiums both have eye-catching blooms and enjoy a climb. The leaves of beans are also more attractive to pests than the veges – win, win!
FLOWER POWER
Pansies and calendulas make beautiful touches to your landscape and can be added to your cooking in the way of salads and baked goods. Plant in garden beds, pots of hanging baskets – and then pluck away to garnish your meals.
---