---
What was once considered a novelty has now, with recent times, transitioned into more of a necessity – the home office. Whether it is a designated room or partitioned off area, Metropol has compiled some tips for helping you create a productive home office hub.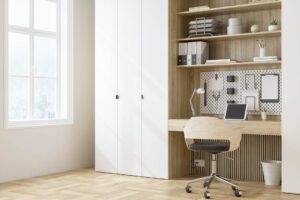 THESE FOUR WALLS
When designing a designated home office space, we tend to focus on what's in our peripheral and not what classmates and colleagues can see on Zoom. Interior designers expect this year will bring stylish backdrops – from walls, intricate bookshelves and well-styled frame galleries to quirky-looking lamps that double as great backlighting.
FABULOUS FLORA
A humble house plant, or five, will always be the co-workers you never knew you needed. Experts say plants help to increase productivity and provide a leafy link to nature, which was what a lot of us were lacking when cooped up inside for so many months. Having a reimagined green screen is always a Zoom meeting ice breaker.
COLOURING IN
Gone are the days of crisp white walls for a home office, it's time to express yourself with a bit, or a lot, of colour. Liven up your space with bright hues, natural woods, or a feature wall. Don't stop there – bring in fun décor, bright rugs and interesting art.
---