---
Cirebon is situated about 250km east of Jakarta, Indonesia and has become a bit of a superstar in the world of outdoor furniture. Establishing itself as the rattan trade centre and manufacturer over time, it is here that WovenVeranda products begin their lifecycle before ending up on the shores of little old New Zealand.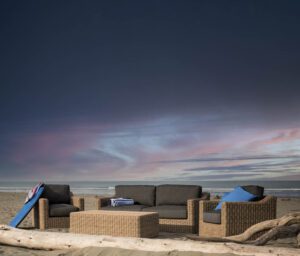 All products are expertly completed by hand. The range can be used for both indoor and outdoor settings, and features natural fibres like rattan wicker alongside reputable and sought-after synthetic options, too.
The polycarbon strands are woven upon commercial grade aluminium framing and manufactured specifically to cope with New Zealand's harsh and varied weather conditions, from high UV rays to extreme cold. Topped with sumptuous cushions that are, quite literally, made for lounging.
Sales Administrator Lisa Lloyd-Thwaites says many customers return to WovenVeranda to add to their collections, or refer family and friends.
"It is the highest compliment to our products and service when we have returning customers, or they refer their friends and family," she says.
WovenVeranda also wanted to take the time to thank customers that have been loyal and patient during the uncertain times that the last year brought with it.
But one thing that has remained is the support of the community who believes the product is worth waiting for!
Does outdoor furniture sound like it would be a wicker(ed) addition to your home? Visit the Old School Collective on Main North Road in Waikuku.
Or get in contact directly on (03) 423 3133 or email info@wovenveranda.co.nz.
---