---
When it comes to putting your dreams into action for your yard, you need the right tools for the job. Here are Metropol's tips for the tools to lead you down the right garden path.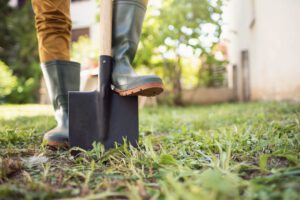 Gloves, boots, action! Whether it is to protect yourself from contaminated soil, prickly plants, sharp objects or heavy items, pull on those boots and put on those gloves before you get started. Your future self's unscathed hands and feet will thank you for it!
Dig it: A trusty shovel is a landscaper's bestie. From trench to planting, a shovel is a landscaping non-negotiable. The tricky part can be choosing the right one; there is handle length, weight, shape and sharpness and size to consider.
Shear the love: Easy to use and intensely satisfying, pruning shears give you the ability to practise your hairdressing skills and keep your garden tidy and healthy at the same time. Multitasking at its finest.
Rake it off: Leave no debris behind with a rake that can help you tidy up those never-ending autumn leaves, as well as load other clippings and cuttings into your trailer or wheelbarrow. A general garden rake can help with weightier waste, or a leaf rake with more delicate debris.
---