---
As Kiwis are rediscovering their own backyards are the coolest place for fun and entertainment, the quest for pools has never been higher, and Julie Hastings of Lagoon Pools says if people have decided they want a pool, they really need to be proactive.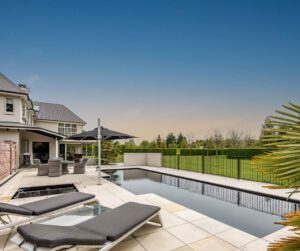 "I would recommend getting things in the system without delay. Lagoon Pools install throughout the year, so anytime is a great time to start the process."
A big trend coming through is for 5-metre pools. A smaller garden or backyard takes on a whole new aesthetic with a pool that sparkles, reflects light and enhances the outdoor living space in so many ways.
Added features, such as spa jets and fountains, bring that extra touch of poolside panache. The range of sizes, up to 12-metre pools, really does offer something for everyone.
Lagoon Pools will undertake an entire project, from pool installation to landscaping, paving, fencing and surrounds, but also readily work in with architects and designers.
A visit, by appointment only, to the showroom is ideal for inspiration, and customers can take home an information pack.
Alternatively, Julie suggests emailing a photo of where the pool's envisioned to be, or an onsite consultation to discuss the area and details. Phone 0800 927 282.
---