---
From a background of working within a prominent New Zealand communications company, Hayden McKenzie had often pondered the question of how real estate could be done differently here. He decided to put it to the test and Ngātahi Real Estate was launched post-lockdown.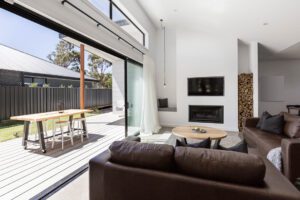 "It started as a throwaway idea for a laugh, but then it just took off and became a very real reality," says Hayden.
And, with two more agents recently brought aboard, things have never been busier.
Hayden says the over-arching philosophy at Ngātahi is to bring about togetherness throughout the whole buying and selling process.
"We ask the questions, 'what do agents want? What do vendors and purchasers want?' This is real estate that's totally local and connected to New Zealand. Clients feel as if they are part of the family, not just another number in a real estate deal to be quickly expedited."
As the business grows, Hayden plans to recruit more of our best and brightest people to join his exceptional team.
"Property sells itself, but it's the brand and customer service that goes with it that makes all the difference."
Visit Ngātahi Real Estate at 267 St Asaph Street, Christchurch, phone 0800 4 NGATAHI (0800 464 282) or email info@ngatahirealestate.nz.
---