---
Plans for a new $25 million school have been unveiled for Marian College. The new school on Lydia Street, Papanui, will include a chapel, office, classrooms, performing arts block, library, whare and full-sized gymnasium when it opens in 2023.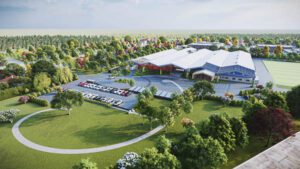 Tenders will be called shortly and work is expected to start on the new Sheppard and Rout designed Marian College campus in Christchurch in June.
Marian College was irreparably damaged in the 2011 earthquakes, and the school has been located next to the Cathedral of the Blessed Sacrament in Barbadoes Street since 2012.
The new college will neighbour St Joseph's Primary School and will be on a three-hectare site bordered by Vagues Road, Main North Road and Northcote Road with the main entrance off Lydia Street. It will be close to St Bede's College.
The new school incorporates an existing warehouse on the site, which offers a unique design opportunity for the college. A large atrium, open courtyard and walkways take advantage of the warehouse area to create spaces to gather and connect with other people.
A range of flexible and specialised learning spaces cater to the school's curriculum and provide for future growth and change. Including 26 full-sized classrooms for a range of subjects including art, science, food technology, textiles and physical education. There is space to expand to 33 classrooms to cater for future growth.
Several smaller teaching spaces are available for learning support, distance learning and careers. A performing arts wing will include a double height black-box performance space, music and recording studios and a full-sized gymnasium will include changing rooms, a weights room, gallery seating and storage, plus four covered sport courts.
A whare is planned as a multi-purpose space for teaching and community activites. A library and learning centre, canteen, chapel, reception and administration office and meeting spaces, and staff offices will complete the build.
Principal Mary-Lou Davidson says the innovative and exciting plans for the new Marian College were "worth the wait".
"This is a home for the future of the Marian College community. We are very grateful to Archbishop Paul Martin for his support and vision, and to the project team at the Catholic Diocese.
"Sheppard and Rout Architects have been amazing to work with throughout this design process. We have done extensive consultation with our students and the school community in developing these plans which are adhering to the Green Star Rating System.
Marian College is a Catholic state integrated school for girls with a maximum roll of 430 students, that opened in 1982, with the merging of St. Mary's College and McKillop College.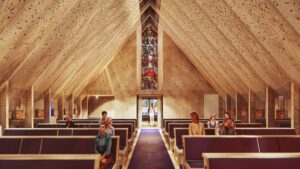 ---