---
Five years ago the Health and Safety at Work (Asbestos) Regulations came into force and the Approved Code of Practice (ACOP) for the management and removal of asbestos was first published. Mark Hamilton of MBC Environmental Solutions, asbestos removal specialists, looks back over those five years and has some salient messages for anyone that may have to deal with asbestos.
WHERE HAVE WE COME FROM WITH ASBESTOS?
Asbestos-containing products were an integral part of the building industry in the 20th century and were used in the construction of many commercial and residential buildings, right up until the 1990s. Unfortunately, given the long time-span asbestos was used, a large percentage of buildings today still contain asbestos. "During the early years of the Canterbury rebuild, it was clear that major changes were needed in relation to the management of asbestos in New Zealand, which fell well short of international standards," says Mark.
WHAT ABOUT NOW?
"A key milestone was the regulations in 2016 and the establishment of a new licensing system. Five years on, the industry has definitely come a very long way in a short period of time. However, it wasn't just the asbestos industry that needed to up its game; it was anyone involved with the management of buildings. The new regulations also imposed duties on anyone that owned or managed a building, along with other duties relating to refurbishment and demolition work."
ASBESTOS MANAGEMENT
"All pre-2000 buildings should have an Asbestos Management Plan, identifying any asbestos-containing material that could be disturbed during normal occupancy and routine maintenance. Any contractor about to undertake work should make a point of asking to see the plan to determine what risks a building presents and how those risks might be managed. When it comes to refurbishment or demolition work, an intrusive asbestos survey should be conducted by a competent person, prior to works commencing."
WHAT IS THE PURPOSE OF IDENTIFYING ASBESTOS IN BUILDINGS?
"That's a no-brainer. It's to prevent or at least minimise exposure for workers and other people. If breathed in, asbestos fibres can cause serious lung diseases, including cancers. Asbestos is still the number one occupational killer in New Zealand today. Some people say that's historical; however, if we don't manage asbestos properly, those numbers won't come down any time soon. You wouldn't start digging on a site without checking where the in-ground services are, so why would you start disturbing building materials without knowing if asbestos is present?"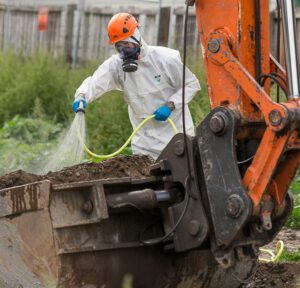 SO IS EVERYTHING GOOD NOW?
"Not necessarily. There is definitely room for improvement. Some businesses aren't following the regulations, with many claiming ignorance even today. We have seen many instances where asbestos management plans aren't in place. We also come across a lot of sites where asbestos surveys have not been carried out to identify asbestos prior to the work starting, only to result in delays and extra costs when it is discovered. Then there are the sites where it is never 'discovered' and those involved are unwittingly exposed."
MBC ENVIRONMENTAL SOLUTIONS' APPROACH TO ASBESTOS WORK
"For us, having our guys go home safely at the end of each day is our primary focus. We are immensely proud of the fact that our health & safely management system was recently accredited to the premier international standard, ISO 45001.
"MBC is proud of its membership of NZDAA (New Zealand Demolition & Asbestos Association) – the national voice of demolition and asbestos in New Zealand. It's fantastic to have this body to represent us all, especially in discussions with decision-makers in Wellington, for example. I would encourage anyone who is involved with asbestos and who wants to stay up to date to join the NZDAA. It's not just for removalists, but for other associated parties, such as suppliers and related trades and disciplines."
CLIENTS CAN BE REASSURED
"MBC is a licensed asbestos removalist, holding both Class A and Class B licences. We're also qualified to undertake asbestos surveys. Our projects have been many and varied – from refurbishment work for the University of Canterbury, to multi-year, multi-stage projects on live school sites; from removing friable sprayed coatings at the Christchurch Wastewater Treatment Plant, to undertaking surveys at numerous residential construction sites.
"We specialise in complex, challenging and technical removal projects, on sites that often still have to operate around us. That can mean having to build robust enclosures, so the hazardous substances can be safely removed while, for instance, school classes might be going on right next door to us."
WHERE TO FROM HERE?
"The industry has come a long way thanks to the Health and Safety at Work (Asbestos) Regulations 2016. It can't rest on its laurels though – continuous improvement is required to push the industry forward to ensure everyone is kept safe. It's up to us to help drive further change and raise awareness, in partnership with other stakeholders, of course."
MARK'S TAKE HOME MESSAGES ON ASBESTOS MANAGEMENT:
Own or manage a building that may contain asbestos? Conduct a management survey and ensure you have an asbestos management plan in place, if needed.
Undertaking maintenance work? Ask to see the asbestos management plan first.
Undertaking refurbishment or demolition works on a pre-2000 building? Commission an intrusive asbestos survey by a competent person before starting work.
Need to remove asbestos? Engage a licensed removalist company that holds the correct license.
Having asbestos removed? Ensure any air monitoring and clearances are undertaken by an independent, licensed assessor.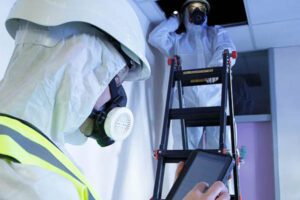 www.mbces.nz
mark@mbc.co.nz | 03 354 4377 Northcote, Christchurch
---