---
Movement and changes in our lives often come with a legal aspect, now there's a personal move coming up for one of the directors of Pegasus Law, Pam Wheeler, who's stepping back from her role and into her next phase.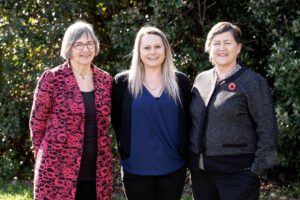 Pam is retiring after seven years, but she will continue to be closely involved in the firm as a consultant.
"I won't have time to work! I'll be spending more time on me – walking, yoga, painting, gardening, and of course more time with family. And travel, when the world is opened up again," she says.
Pam is proud of her time at Pegasus Law. It's grown to eight full time staff, two part time staff, and an office in Kaiapoi.
"The thing I have loved most about my work is getting to know my clients and working with them through their legal matters."
What hasn't changed is Robyn Loversidge and Anneliese Muldoon remain as directors, and Pegasus Bay Law remains keen to assist you with buying and selling residential and commercial property and small businesses, financing, leasing, family law, wills, enduring powers of attorney, trusts and estates.
For all these services contact the Christchurch office on (03) 386 2211, the Kaiapoi office (03) 928 1215, email reception@pegasusbaylaw.co.nz or visit the website.
---