---
A great environment, friendly faces and a passion for practice are what make for a perfect place to carry out study.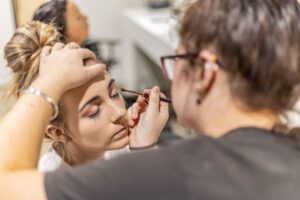 A love of makeup is the reason that in 12 years the Kristen Stewart School of Makeup has seen more than 500 diplomas awarded to eager students, some of whom have attained prestigious roles in the industry throughout New Zealand.
Speaking to Kristen herself, it's evident that the makeup connoisseur lives and breathes what she does.
She was excited to announce that they've now moved premises. "It's nice to be in a space I'm really excited about. I've always wanted to provide a cool space with a nice vibe."
The school offers "a good opportunity for people to kickstart their career. The main diploma happens four times a year for eight weeks and the part-time option, which involves two nights a week between 5-8pm, is great for people working or students in their final year of school who want to get ahead," Kristen says.
There is also a great community of students past, present and prospective that showcase the KSSM name.
"We instill professionalism in our students and make sure they're work ready. But when they leave the doors don't close, we're always here. They are all like family".
Thinking of picking up the brush?  The next diploma starts 20 July, followed shortly by the part-time option commencing 21 July.
---