---
Bridal bouquets and floral arrangements are often a crucial element of the big day as modern couples pay homage to traditional wedding day accoutrements. Canterbury is home to many talented florists who can make your floral fantasies come to life, but you can also take the reigns to make the blooms last, long after the reception ends. Here are Metropol's tips for preserving your big day blooms.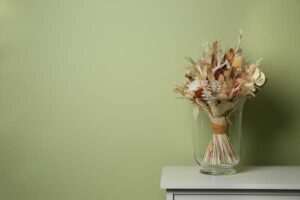 IM-PRESS-IVE PETALS: Some professional framers and florists can press and frame your flowers for you; and they look timeless in a classic glass frame, hanging on the wall or resting atop a side table. Or, if you'd like to get crafty yourself, simply select the blooms you'd like to press and spread them out wax paper. Then, pop the wax paper inside the pages of a heavy book, sandwiched between another piece of wax paper. Dry for seven to 10 days. Remember, you only have one shot at pressing so make sure the blooms are arranged as you want them in their final form.
SILICA SOLUTIONS: A solution used by professionals, silica gel removes moisture from flowers, preserving the shape and colour. Done professionally, this returns exceptional results – but you can also try a DIY version, too. Available at most craft stores, simply cover your flowers in the silica and leave in an airtight container for up to a week. Make sure to layer the silica so it doesn't crush the petals!
NEW FORM FLORA: Once flowers are dried or preserved with silica gel, combine bouquets and arrangements into an impressive new form which can be used as a wall hanging or table arrangement. Combining the flowers together helps your memories live on, while adding an exciting new and on-trend feature to your interior design scheme. Display in an architectural vase, or suspend from the ceiling.
DRY IT OUT: There is no need to bid adieu to your bouquet and flower arrangements when you can tap into the floral trend that just keeps keeping on: dried flowers. Professionals can help you out with drying, as there are techniques and tricks like painting which add aesthetic appeal. However, if you want to DIY, simply hang your desired stems upside down (one by one is best) in a dry and warm area, such as a cupboard, and let dry for a week or longer.
---