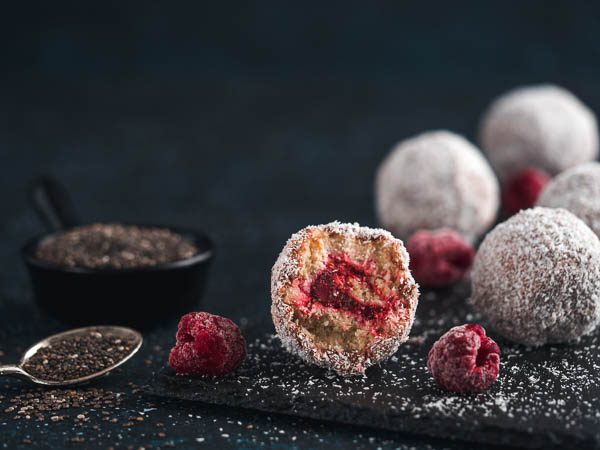 Lamington Balls with Raspberry Chia Jam – Recipe
---
Quick, tasty, decadent and beautiful to service for guests, these lamington balls are a beautiful addition to any festive feast. They even look the part!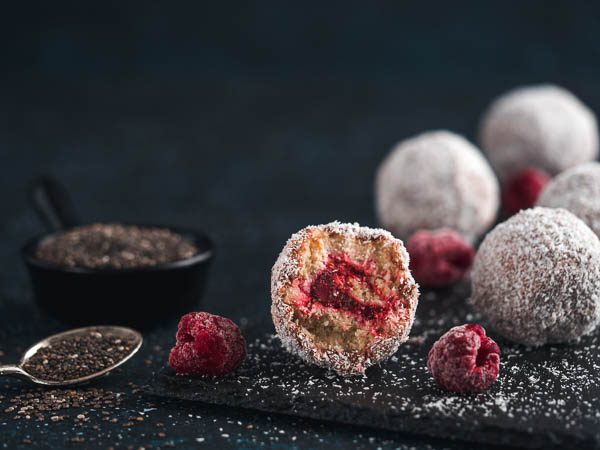 Ingredients
Lamington Balls 
1 cup raw cashews
1 1/2 cups shredded coconut
3 tbsp rice bran syrup
1 tbsp vanilla paste
2 tbsp coconut or soy milk
100g raw Lindt dark chocolate
3/4 cup desiccated coconut
Jam
1 cup frozen raspberries
1 tbsp rice bran syrup
1 tbsp chia seeds
Method
Jam: Place raspberries and rice bran syrup in a saucepan over medium-low heat.
Allow the berries to cook slowly, stirring regularly and squashing them down with a fork. Cook until berries have broken down, about 5-10 minutes. Take off heat and stir in chia seeds. Set aside.
Lamington Balls: Place cashews and shredded coconut in a food processor and process until it resembles crumbs. Add rice bran syrup, vanilla and dairy-free milk and process until mixture comes together and gets a bit sticky. Transfer to a bowl and add chia jam, stir until it is swirled through. Take heaped teaspoons of mixture and roll into balls.
Line a tray with baking paper. Melt raw chocolate. Pour desiccated coconut onto a plate. Cover each ball in chocolate before rolling in coconut and setting on the tray to dry. Store in the fridge.
---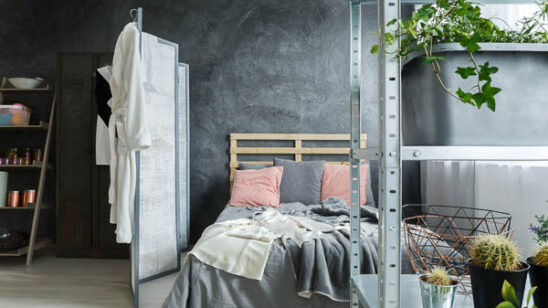 Previous Post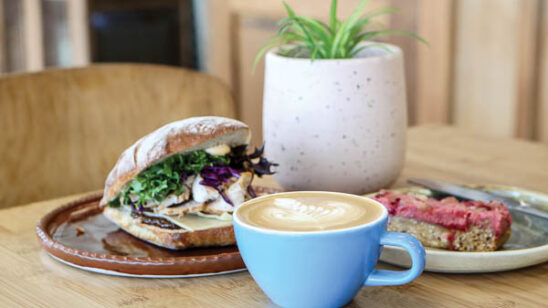 Next Post