---
The flair of European cuisine hides in plain sight in Northwood at The Option Bistro & Wines. Those who have visited the continent will know, there, hospitality transcends expertly cooked cuisine with matching wines, and combines excellent service and an atmosphere which fosters connection. And that's exactly what happens at The Option.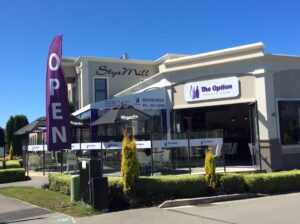 Owners and Romanian ex-pats, Sabina and Sergiu Toader named The Option for its diverse menu offerings. But the philosophy of the enterprise is underpinned by following the motto of one of the world's most famous hospitality brands, the Ritz-Carlton.
"Their motto is, 'We are ladies and gentlemen serving ladies and gentlemen'," says Sabina. "Considering ourselves ladies and gentlemen means we do our serving job with excellence.
Unlike the Ritz-Carlton, we are not a luxury establishment, but we pride ourselves with our service and products and by treating our guests as royalty."
Since its inception four years ago, it has gained a strong reputation as a portal into spectacular wines and internationally curated cuisine.
"We are continuously bringing the flair of European dining trends into this relaxed corner of the world," says Sabina.
"Our travels around the world taught us to appreciate and celebrate diversity. The Option Bistro & Wines is about diversity, and as many options as possible.
"Our current summer menu brings dishes from Europe: the Spanish Gazpacho, the French Escargot or the Italian Chicken Parmigiana, all next to the best beef fillet in the world – the New Zealand one – and the unbeatable seafood chowder."
The beating heart of Styx Mill, The Option creates irresistable memories through landmark events and dining experiences.
It is popular with locals for casual catch ups, business meetings and special occasions. Monthly cultural-themed parties celebrating diversity through food, drinks and music are also a hit.
The team can also customise experience to suit any special celebration.
"We provide connectivity through our products, our friendly service, the atmosphere and experiences," says Sabina.
The Option has a vast wine list (and popular tasting experience) which traverses more than 15 countries.
Sergiu is an accredited wine and spirits specialist who designs professional wine tasting experiences which double as culture, geography and history lessons.
The Option Bistro & Wines is open for breakfast, lunch and dinner every day with Sunday and Monday nights reserved for bigger groups.
---