---
Cameron Bailey is one of New Zealand's most renowned real estate agents, and Harcourts' number one consultant of almost 7000 internationally. Metropol catches up with the Christchurch Harcourts gold agent about how he manages his career, and his life.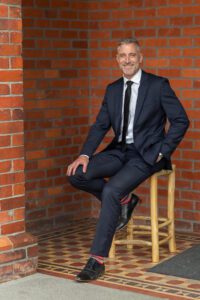 5AM
I wake up and check any emails which may have come in overnight, and plan my day ahead. It's an early start to a long, busy but purposeful day.
5.30AM
I head to Koha Fitness for a workout every day, often with a good friend of mine. I love the gym, I don't have my phone on me or many people around so I find it quite relaxing.
8AM TO 8PM
I usually have my first appointment of the day about 8am. That could be a video shoot for a home, an appraisal, negotiation, contract or viewing. On the weekends (I work seven days a week) I can have up to 16 open homes to attend.
I have two PAs who are the best PAs in the world, and they organise all my appointments for me and my team and sort out the paperwork and administrative tasks. This means I don't get bogged down and can focus on sales and viewings, dealing with our clients and getting the best prices for our owners.
People think real estate is about houses, but it's about people, and helping them move from one chapter to the next – so I need to be out there with them, not in the office.
I eat a keto carnivore diet (which my mates give me grief about) and I'll grab something for lunch quickly between appointments.
8PM
I usually get home about 8pm and have dinner (another steak!), and will spend some time answering emails and planning the next day.
8.30PM – 10.30PM
I like to relax at home and usually listen to music, I like all the old stuff – Frank Sinatra, Neil Diamond, Rod Stewart – or I'll see what's on Netflix. I also have a sauna at home, and I'll have about four or five a week – it's like meditation for me – with my trusty citrine crystal not far away. I am usually asleep by 10.30pm. In the weekend my favourite family pastime is ice skating with my girls.
www.cameronbailey.harcourts.co.nz | 027 555 7079 | cameron.bailey@harcourts.co.nz
---