---
Independent and professional advice. That's what clients receive when they discuss their insurance needs with Michael Devine.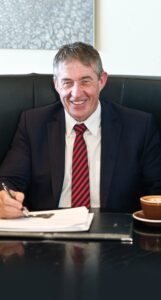 WHAT TO YOU PERSONALLY IS THE MOST IMPORTANT ASPECT OF YOUR WORK?
"It's forming strong personal relationships with clients so they know they can trust us and the insurance solutions we develop for them. A real empathy for each client and their individual circumstances is key to creating the right portfolio for them. It's not a one-size fits all situation."
WHAT EXPERIENCE DO YOU HAVE IN THE INSURANCE INDUSTRY?
"I've been in the industry for more than three decades. That longevity coupled with being a qualified QFE Advisor with a diploma in financial services are vital to understanding clients' needs and finding the best selection of insurance products to secure their family, their home and their lifestyle against any misfortune."
WHAT TYPES OF INSURANCE DO YOU OFFER?
"We offer advice on all personal and business insurance and can provide clients with a package that fits their current concerns. Personal insurance ranges from life insurance, health insurance and income assurance to trauma assurance and mortgage repayment assurance. Business insurance might be partnership assurance, key person assurance or disability income protection."
THAT'S A VERY BROAD RANGE. HOW CAN PEOPLE GET IN TOUCH WITH YOU?
They can call me on (03) 341 0000 or 027 437 9119.
---