---
Laser hair removal is a pretty smooth way to sail hair-free through summer.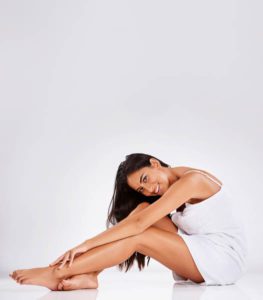 Who doesn't wish for silky smooth skin every single day without having to worry about regrowth ever again?
Technology and science have come a long way and the process is generally a fast, safe, painless and permanent one – and definitely not as scary as its light-zapping title suggests.
However, it is vital to choose a well-trained, highly qualified professional that uses a medical-grade machine.
While the initial outlay maybe costlier than waxing, the savings in the longer term make it an affordable and far more lucrative beauty investment.
It also saves so much precious time!
No more maintenance. Another bonus is no ingrown hairs, or having to put up with regrowth in between waxes, just when you need it the least.
And as for the daily grind of shaving – need we say more?
A laser treatment is often over a series of 6-12 sessions, during the cyclic hair-growth phase, with breaks in between.
Some people notice a finer regrowth right from the beginning. Both men and women have seen the light and chosen a laser treatment to de-fuzz all sorts of body parts.
Laser uses a concentrated light beam which penetrates directly and deep into the hair follicle.
It is not to be confused with an IPL treatment, which uses a broad spectrum of light. The two procedures are very different.
The professionals will be happy to explain all the facts, debunk the myths, and recommend the best treatment for your skin and hair type.
Hairless summer days, here we come!
---