---
Embracing innovation and technology, Unichem Prestons' new robotic packing machine will result in many benefits for patients, including compliancy and convenience.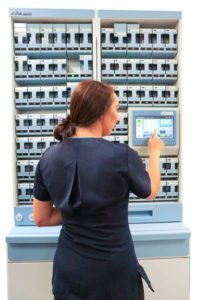 Owner Ed Dawwas has been operating a Robotic Dispensing Machine at the Woodham Road Pharmacy for the past two years, and was so impressed with the impact of this medication sachet system on patient compliance, that he decided to bring it to Prestons.
He says the system is an excellent way to manage a patient's medication and ensures that patients take the right medication, at the right dose, at the right time.
Medications are conveniently packed into the sachets at the appropriate dose times, and each individual dose is labelled with the patient's name, dose time and the medicines to be taken at the specified time.
"The medication sachet system is especially good for making it easy to remember to take your medications, customers who are on multiple medications or complicated regimens, customers who are travelling or needing to take medications away with them (for day trips, lunch excursions) and safety as all medications are in one place and can be easily stored."
It also provides patients with a continual supply of medications, so they never feel like they're going to be caught short without them.
When they are due to pick up a new supply of medicines, patients receive automatic reminders, and there's flexible, daily delivery options for the local community.
"We have a great community, and we would like them to benefit from this service," Ed says.
For more information, phone 03 281 7889 or email pharmacy@unichemprestons.co.nz.
---