---
This elegant sanctuary at Gleniti strikes the perfect balance of personal and social space. Designed by Chilton + Mayne Architecture, the brief called for a modern, contemporary family home which maximises space, sunlight and views, and which works in harmony with the site.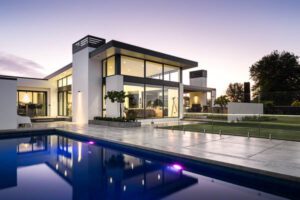 Director Garry Mayne and his team ensured large windows and sliders create a fluid transition from indoor living spaces to the covered outdoor area and decking.
The swimming pool and sheltered outdoor living maximises the external environment, and each space experiences the wonderful views to the immediate environment and beyond.
Open plan living with a raking ceiling contributes to the sense of airy calm and makes for seamless entertaining with a state-of-the-art kitchen at its heart. Glazed opening placements have all been carefully considered in a passive solar design approach of harnessing and managing the sun's energy and storing it in the thermal mass of the polished concrete floors.
The 374 sqm home sets a crisp architectural statement with the use of white plaster cladding alongside local Timaru Bluestone accents adding depth and contrast.
The Bluestone is carried into the interior and is also used in the landscaping.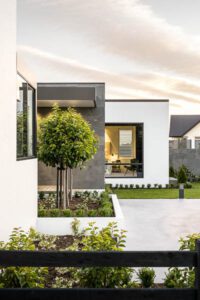 ---