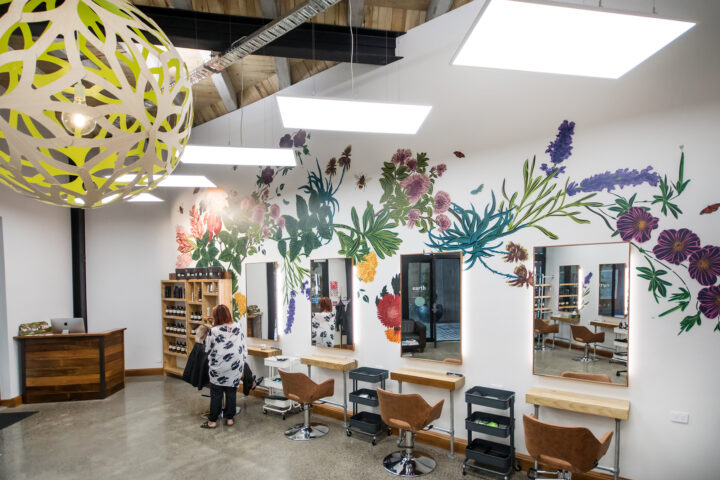 Eco-styling: Earth Organic Hairdressing aims to keep hair AND the planet beautiful
Creating beautiful hair in a vibrant, welcoming oasis on High Street, Earth Organic Hairdressing is an eco-friendly salon with a focus on sustainability. "Our aim was to have as small a footprint as possible," says owner, Traci Aylmer.
From the styling stations to the skirting boards, the salon furnishings were beautifully handcrafted by Traci's husband Ollie, using recycled timber from earthquake-damaged buildings. The carefully selected organic product ranges and hair colours consist of Angel Du Provence, De Lorenzo and Paul Mitchell's Awapuhi collection. "We wanted to keep everything authentic to the image we are creating and really care what goes into the products we use."
Traci hired talented Kiwi artist Flox to paint the walls with stunning botanicals – an array of beautiful natural properties used in the hair products, such as lavender, ginger, aloe vera and mint.
Originally from Brighton, England, Traci has been in the industry her entire life. She fell in love with New Zealand five years ago when travelling with her family and opened Earth Organic in December last year. Through word of mouth referrals, Traci's clientele grew so quickly she now leads a team of three to keep up with demand – two experienced senior stylists, Caitlyn and Hannah, and a talented apprentice, Alice. "My staff are wonderful and we all have a strong commitment to keeping up with the latest trends and techniques."
Visit www.earthorganichairdressing.co.nz to book online, follow on Facebook and Instagram, or phone 03 365 7393 to make a booking.