---
They make a dream team, Ingrid Geldof Design (IGD) and the joiners at Advanced Joinery. Their recent collaboration on a Beachville Road kitchen has won the 2020 Canterbury Chapter Kitchen of the Year from the National Kitchen and Bathroom Association (NKBA).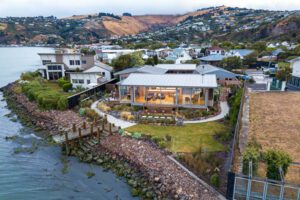 This kitchen also won a Distinction Award in its price category from NKBA and was runner up in the Certified Designers' Society (CDS) awards.
Ingrid is no stranger to winning such awards – she has amassed over 50 since setting up her business in 1992. Advanced Joinery too, has many awards to its name.
Both companies share a passion for quality, seeking to create kitchens that are both functional and aesthetically pleasing. "IGD's forte is
space planning," says Ingrid. "We make spaces work cohesively, so that clients have a joyous place to live and work in."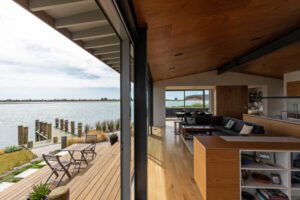 IGD had a clear brief from the homeowners for the kitchen at Beachville Road, also known as The Ship House.
It was to enhance the architecture of the house design itself – full of light, with plenty of room to entertain in and with an uninterrupted view through to the estuary.
"It's a very high tech kitchen with several built-in features – a Hafele vacuum system in the toe space, a concealed audio system and an integrated charging station on the Corian benchtop. The materials are natural for the desired light, streamlined, yet warm effect."
Greg Ayers of Advanced Joinery was delighted to be part of the project. "We've worked with Ingrid on a number of occasions. We both want to achieve the very best for the client and we are very proud of the final outcome, especially the attention to detail."
The homeowners, who engaged Bruce Banbury of Banbury Architects and James Warren of Upoko Architects for the project, are full of praise for both IGD and Advanced Joinery.
"They have given us everything we wanted in the kitchen. It's just perfect and a breeze to work in. It certainly deserves the awards."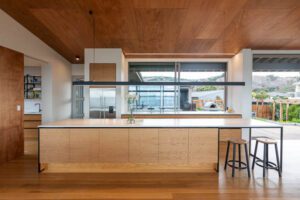 ---