---
A universal joy of warmer seasons is the vibrant and flavoursome fresh produce yields – and using the ingredients in creative ways. As the weather heats up, our preferred snacks tend to cool down, and one way to embrace the colour and crispness of fresh seasonal produce is to create refreshing savoury dips in the colours of the rainbow.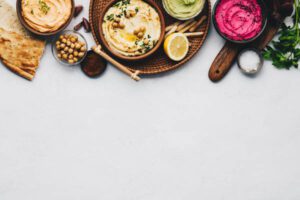 Going rogue
Create a vivid red hummus by roasting cored red capsicum with sirarcha until the skin wrinkles and the body collapses. Add to a food processer with a standard hummus base of chickpeas, fresh lemon juice, tahini, garlic, salt and olive oil.
Green with envy
It is hard to disappoint with modern menu staple, avocado. And when it comes to a refreshing, colourful condiment – avo is a go-to. Diverge from old favourite guacamole with an uplifting avocado, yoghurt, mint and fresh lime juice number.
Lovely lilac
Known for its earthy flavour, beetroot can become revitalised with a sprinkle of chilli and cumin. Again, add to a hummus base. Or, for something a bit different, choose some purple kumara and omit the chickpeas.
Got the blues
Blue is an infrequent savoury food hue. Flip that stereotype on its head with a blue spirulina and feta hummus. Roast a whole head of garlic in tinfoil for this recipe and stir in the spirulina last for an addition sure to make your platter pop.
---