---
Scout is a typically energetic four-month-old Jack Russell Terrier who loves being involved with everything that is going on. One morning recently, Scout was a little too close to the action when a wooden pallet fell on her. When the team at Wigram Vet examined Scout, it was not immediately obvious what injury had occurred, but she was lame on her left hind leg.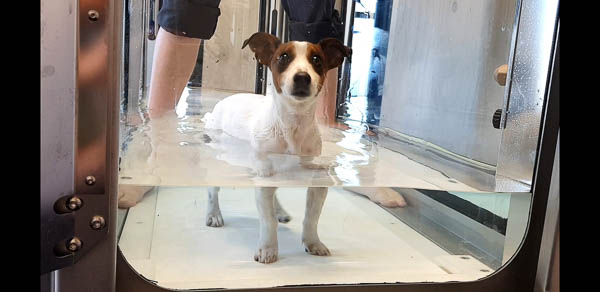 After sedation and x-rays, a distal femoral epiphyseal fracture with approximately 35 degrees of displacement was identified for poor Scout. This injury is essentially a fracture at the growing zone (epiphysis) of the femur, at the end of her femur close to the knee, Veterinarian Geoff Mehrtens says. "Although outwardly the limb looks relatively normal, such a fracture would have serious effects on her limb as she grows if it was allowed to heal in the abnormal position."
Geoff says surgery was the best option and Scout's physically active family wanted the best possible outcome for her; she is after all, an important member of the family ski team. "It is a tricky surgery where we essentially must balance the distal knob of bone that forms the knee back on to the shaft of the femur with two semi-parallel metal pins. The post-operative phase is particularly important with these injuries. We must balance the need for confinement because the fracture repair has substantial stresses, with the need for maintaining function, movement and muscle strength. Due to the fracture being so close to the stifle joint, discomfort and lack of use can lead to muscle wasting and decreased mobility of the joint."
Wigram Vets started Scout on a programme of physical therapy soon after surgery, managed by their canine rehab guru Kate Donald. This involved massage, range-of-motion exercises and some sessions in the hydrotherapy treadmill. The implanted pins were removed at an early stage to enhance the recovery of the joint.
"Scout is a model patient and has made an amazing recovery from a potentially crippling injury, because of the holistic integrated repair strategy she has received," Geoff says. "However, she has not modified her daredevil behaviour and will, I am sure, continue to support Wigram Vet in the future!"
---