---
The juxtaposition of strength and softness that represents women is something Dame Trelise Cooper always seeks to capture in her designs.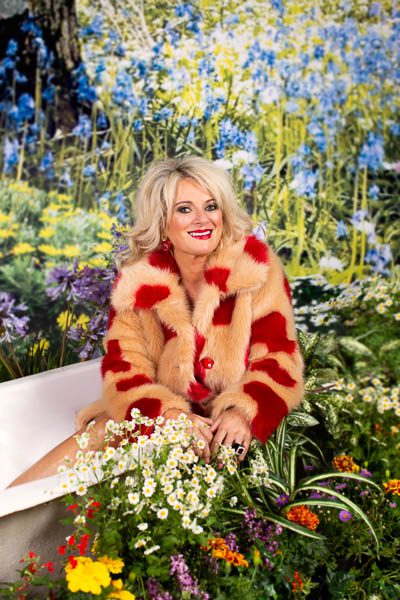 It's not unlike the juxtaposition of Trelise herself; the beautiful, elegant and bubbly woman that heads a fabulous fashion empire, with colour at its heart and style in its soul.
It's also a juxtaposition that was intentionally weaved into her latest collection – both figuratively and literally.
"I think it's about a new romanticism that transcends the trouble that's happening in the world," she says of Trelise Cooper Pre-Fall 2020.
"There's something kind of romantic, mythical, that takes us out of our every day. The colour palette is soft and strong all at once; it pairs pinks with red; there's a vibrant green that matches the colour of the earth.
"I think it's about transcending and going to somewhere dreamy."
She's the long-reigning queen of colour and the latest season is no different; there's pinks, greens, vibrant florals; there's also polka dots and sequins.
"I definitely have my favourites," she laughs.
"I really love the green of this season; there's a green dress that I wear that has a tone on tone embellished ribbon embroidery (Runaway Rudi Dress), I love the Make My Heart Beat Coat and I like the green pinstripe suiting (Like Miss Markle Dress and the Have I Told You Shapely Dress), then I like the red hearts on the tulle (Nothing But Ruffle Skirt) as well actually…
"Towards autumn there's more oyster and silver together, which I think is a lovely combination; it's strong and soft at once which captures the strength of women; we can be strong and soft which is always what I try to achieve."
Though it's hard to imagine her in black – the day we meet she is wearing the most divine deep tropical pink that is almost impossible to describe in words – she says she has worn plenty of the dark shade throughout her life.
"I love black and have worn a lot of it in my life, I also employ a lot of women who love black and though we are mostly known for our colour, we sell black! All our garments have an option in black just for New Zealanders."
However, she says, the power of colour is addictive. A couple of the ladies in the Trelise team that were steadfast on their black eventually dabbled in colour and they've never gone back.
"When you wear colour people notice and people comment! Those complements become addictive; so many women tell me that story."
So what are Trelise's words of wisdom when it comes to going to the colourful side? Start small!
"Stay with your black but try one piece of colour with it, whether that's a top with pants or one of the girls here wears the bright colour printed kimonos over black.
"Black makes such a lovely canvas for colour. We do a lot of open-front garments that can be worn buttoned up down the front like a dress, or open like a lightweight coat over jeans or when you're wearing black; that's a really great introduction to colour."
She gets her bold inspiration from a life well lived.
"Inspiration is a concept I find really interesting; it's magical; it's kind of mysterious. I'm always surprised at how inspiration I've come across on a trip whether to Morocco, India, Greece or Mexico, somehow makes its way into my collections through colour, texture and pattern."
It was domestic travel that has provided that inspiration in recent times.
In Christchurch to give an exclusive preview of her pre-fall collection at Ballantynes, Trelise was impressed by the city's re-birth.
"It is a slice of heaven! The people are always so welcoming and friendly. This last trip I was struck by how international Christchurch is. I think Ballantynes is the most beautiful department store, at an international level and I was so impressed with how the city has developed."
She headed to 'the strip' for dinner. "All those restaurants along there was so interesting and Amazonita was so cool and casually stylish, I wish we had it in Auckland!
"I think Christchurch has done a really great job of rebuilding and it's an exciting place to visit."
Trelise has seen a lot in almost 40 years of business, but nothing has come close to the past six months.
Just before Christmas, her Australian customers were hit with droughts, then the horrific bush fires, then came floods and a retail recession.
As soon as light beckoned at the end of the tunnel, COVID-19 started unfolding.
"This is unlike anything I've ever experienced. The ramifications are uncertain so far, though nothing is ever certain in business really."
Though she has had to hit the pause button on a swag of international travel, Trelise is feeling optimistic about 2020.
There's plenty of international opportunities in the works, particularly with her eco bag that the brand has been producing since 2008 (it's sold millions!).
"It's a changing feast of ideas at the moment; things are changing daily with what's happening in the world.
"I had travel planned, first to Mexico, then Korea and rural France, but at the moment that all has a big question mark on it. So I guess 2020 is all about keeping business building and keeping things going; it's a time where making plans is interesting and we're just keeping on keeping on."
---