---
Relax, it's the 2020s and this decade's décor retreats into a comfort zone that simply says 'chill'. Home is a sanctuary where we recharge our batteries. We look at ways to do them up, so we can wind down.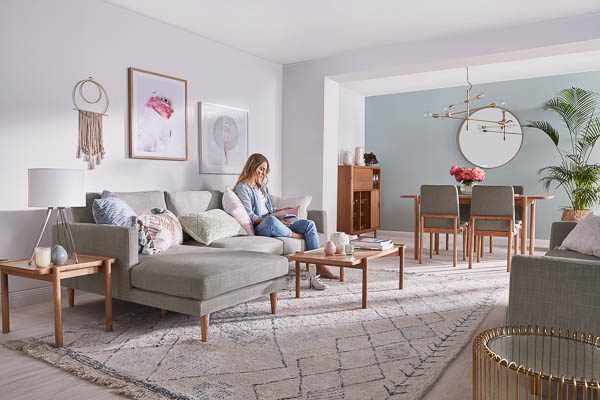 ---
A softer palette
Muted, serene shades make a peaceful haven.
Warmer neutrals are snuggling up to hazy pastels for a luxuriously lived-in look as cool colours now give way to more yellow-based neutrals such as creams and all renditions of dirty white.
Star of the season, mustard, melds into this vibe with a cosy dollop of colour. Warm up any cool greys with nude and champagne pinks, washed-out teal, dusky aqua or faded moss greens.
---
Cutting the corners
The art deco era embraced all those sensuous curves – as seen in those glamorous circular mirrors and artwork, seating with gorgeous curved detailing and those graceful flowing figurines.
Cylindrical-shaped coffee tables are also a cool change. Couches are comfy with soft, sloping sides.
Round or oval tables can squeeze in more diners, inviting conversation – no one is on the edge.

---
Lounging around
A soft-cornered ottoman really owns the living room.
They can aspire to everything a coffee table can but without the sharp edges – from magazines and trays of morning tea through to extra seating for visitors or a footstool for three.
In deep-button velvet they're opulent eye-catchers.
Magical Moroccan-style poufs add exotic chill factor; in fact oversized oval cushions in all styles are relaxing up lounge landscape.
Egg swing chairs and circular seating of the swinging '60s have also become cocoons we love to lounge upon.
Tactile textures
Freedom from formality is frayed fringing, tussled tassels, worn velvets and canvas, linen and cotton.
Pamper with pom poms and mohair rugs and include touchable softness from silks and satins to worn leather and faux fur.

---
Fade away
Time worn and sun-kissed has earned its place.
Let pale, aged, natural wood have a break from the high polish.
Relax in the imperfect charm of wicker, rattan and cane in a faded shade.
Further invite with paled plump cushions and washed-out cotton throws. Faded evokes well-loved style.
---
Holiday mode
For a retreat-style home, embrace pale flooring of parquet or light woods, exposed rustic beams and let in plenty of light.
Bedrooms can be 24-hour hibernation hubs with lounging areas and soft dreamy colours to send us into slumber.
On the other hand, lounge couches have become bed-like with the trend in sumptuous wider seating.
Upholstered chairs around lower casual dining tables also become hang-out zones.
After all, who wants a visitor to perch politely on the edge of their seat – we're now saying welcome, stay awhile and chill.
---