---
This beautiful serene space has been created to be an inviting and comfortable escape that's refreshingly gender neutral. Just a quick change of the focus artwork shifts the room subtly from more of a 'she-den' to a 'he-den'.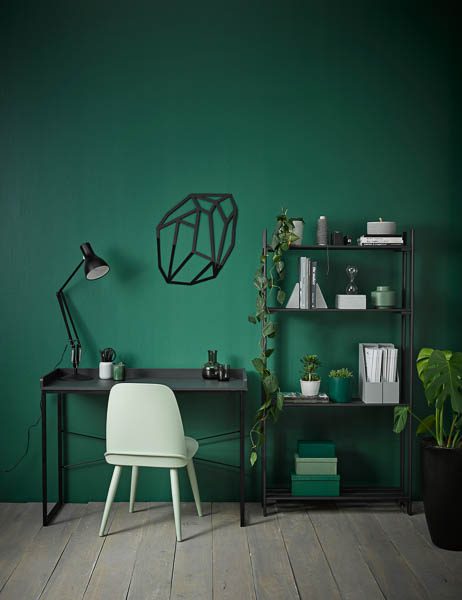 It might seem like an unusual way to think about a space, but there are key times when a room that appeals to as many people as possible is important.
In a shared office, for example, as this room could be, it really needs to be a space that whoever needs it, wants to spend time in it to get that work done.
This lush jade green space, with its walls in Resene Mother Nature, has the feel of a warm tropical jungle escape.
The layers of green accessories throughout the room – from the darker Resene Permanent Green and Resene Family Tree to the grey-green of Resene Rivergum and the pale Resene Peace on the desk chair – all enhance that feeling.
The delicate and streamlined design of the furniture in this space means the use of Resene Noir never becomes overpowering.
It emphasises the drama of the green walls without weighing the room down.
The floors are stained in Resene Colorwood Greywash for a relaxed, textural anchor to the room.
Extra texture also comes in the leafy green plants for a look that is warm and inviting.
Accessories in greys such as Resene Silver Chalice pull it all together to create a space that is not too warm, not too cool, but just right.
Get inspired at your local Resene ColorShop, www.resene.co.nz/colorshops.
---