---
When talking to Glen Foulkes of Edge Developments it becomes clear that it is not only houses that he builds, but also solid, trusting relationships.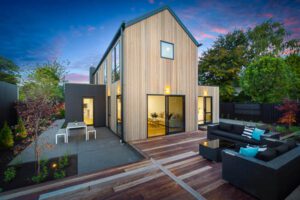 Glen's been in the profession for 20 years and word has gone around about how good he is.
But he's not into blowing his own trumpet, so he pointed Metropol in the direction of some happy clients to do that for him.
"Glen is very easy to work with and he's a great communicator," says Mary-Ann Sidey. "He embraced our ideas and nothing was ever a problem."
"And he liked Mary-Ann's scones," pipes in Pete, Mary-Ann's husband.
The Sideys' were impressed that Glen was on-site all the time and that he kept the place clean and tidy, which was important as they were still living there. Pictured here is their build in Fendalton, which was designed by Timothy Hogan of Intrados Architecture.
One thing that Glen thinks is hugely important is the relationships he has with his sub-contractors.
These have been established over the years and he trusts the tradespeople he works with.
Edge Developments are boutique builders, who work directly with clients and architects. Call Glen Foulkes on 021 276 3558, or email glen.amanda@xtra.co.nz
---