---
Brides will be letting their true beauty really shine through this decade, with makeup magic that has come a very long way.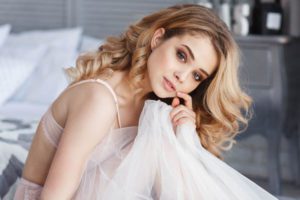 Hailing from Christchurch, Charlotte Edwardes, a wedding makeup artist at Island Beauty on romantic Waiheke Island, makes up stunning brides from all nationalities.
Her number one tip: "keep it natural to radiate warmth from within – so you're glowing from the inside."
"A softer, natural look seems to be the trend, and products are now unbelievable in how they can achieve this. Contouring is less pronounced now – much softer – as there are too many high-definition lenses out there to capture any stage tricks!"
She says no particular trend reigns; people just like to look different to what they do every day at work.
Also, personality, skin tone, and what suits the colour of the skin and face shape matters the most.
"However, there are less nude-shaded lips now and more colour. Some brides really suit that classic matte red, especially for a Chanel '40s look. Some with naturally rosy lips are opting for just gloss. They might want a pink lippy to match a pink bouquet for example. Soft corals, apricots and peaches are also featuring – glorious with an heirloom antique-lace dress. Pink undertones fair better than orange and brown for whiter-looking teeth, and a lip conditioner makes a big difference."
Charlotte see brides of all ages looking absolutely beautiful for their big day.
"The latest formulas of powder-cream blushes are more forgiving for fine lines, and are best applied directly on the cheek. Pigments are now richer, sharper and a lot finer – and therefore more flattering. Gold-shimmered eyelids and bronze highlights can be sensuously subtle. Mineral foundations are perfectly lightweight for dewy skin at any age, and I use a high-definition setting powder."
A highlight for the bridal party is getting glammed up together. "I recently made up a grandmother of the bride in her '90s. She was crying because she felt so beautiful."
The eyes express all on the wedding day. Local eye-makeup influencer Nikita Rindel is all about eyes on her popular Instagram page Nikitahhx.
Over the past couple of years, she's noticed brides and bridal parties wanting a more natural and simplistic look, rather than a defined contour and smokey eyes, and says 2020 will mark this exact trend.
"Brides will instead concentrate on enhancing their natural beauty rather than on the 'creativity' of the makeup. Fake lashes always make the eyes pop, so I feel this won't go away anytime soon – but rather than rock a winged liner and daytime smokey eye, brides will opt for a light and more simplistic look such as a light shimmer and semi-dramatic lashes. Ardell offer the best bridal lashes in my opinion; lightweight yet dramatic enough to make a statement."
Experimenting and trialling new products and different looks is always an exciting part of the planning.
Youngblood is a makeup line developed by former medical aesthetician Pauline Youngblood.
Its luxurious base of fine natural minerals avoids common irritants often found in makeup – imperative for a stress-free wedding day.
Feeling calm and serene in your skin ensures you will look it too.
---