---
Giving the gift of relaxation, pampering and beauty treatments takes on a new meaning in a year marred by stress and uncertainty. For the 2020 holiday season, sprinkle your loved ones with some much needed time
out – as good as a luxury getaway!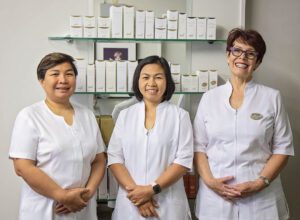 Beauty Progress in Sydenham has a suite of offerings to bestow upon those who deserve some pampering.
From Thai body massages to facials and luxurious spa packages – a gift voucher, which can now be purchased online, will allow that special someone to select the indulgence of their choice.
Or, select from the range of cult Gernétic skincare products created in France. Director and Gernétic specialist Wendy Barker, and masseuses Anne and Orn use the products in the salon to deliver their sought after treatments.
Gernétic skincare products work at cellular level, stimulating the skin's natural healing capabilities, and Wendy selects the therapeutic products to create a facial tailored to your skin and its issues.
"We find it is a really appreciated gift for people who have never had a massage and facial and who wouldn't buy for themselves. It's a little luxury escape in itself to come here, with the addition of little aches and skin issues addressed."
If you're after some pampering of your own, the team can help you prepare for social season with skin treatments, pedicures, manicures and waxing.
Beauty Progress is open throughout Christmas and New Year, just phone to book your appointment.
---