---
We're heading into winter, which means dry, lifeless skin, right? It doesn't have to be this way! We've got our top tips for maintaining your skin throughout the cool months.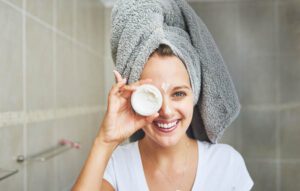 SOMETHING IN THE AIR… and hopefully that's moisture to keep your skin hydrated! The warm, dry air pumping out of your fireplace or heatpump can wreak havoc on your skin, so it's just as important that you're keeping your fluid intake up during the cooler months, as it is in the heat.
YOUR NEW BEST FRIEND: You can't go wrong with a good moisturiser! It's something that you can use year-round. Learn to swear by it and thank us later.
YOU ARE WHAT YOU EAT: Unlike bears and bats, us humans don't need to stockpile our food stores. So winter isn't the time to start binge eating or carb loading. We hate to be the ones to tell you this, but that extra packet of chocolate biscuits won't be doing wonders for your skin.
SPRAY AND WALK AWAY: If you're in a rush to get somewhere and you don't have time to moisturise, using a face mist is a great alternate option to add some hydration to your face.
---