---
"Level One Events caters to traditionalist couples through to the wild ones who want anything but!" says Wedding Planner Kate Grater. Level One Craft Beer & Coffee Bar launched Level One Events in 2020 so couples can have it all.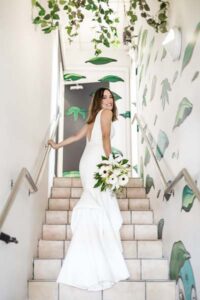 The boho beach style is rich décor, dark green foliage, bar leaners, plush sofas and comfy relaxing nooks for guests to converse.
Kate says while weddings are changing with the times, traditional affairs hold the same grace and style as ever.
"Embracing the new wave in the 'I do' department leads way for niche pop-up, micro, elopement, and bespoke wedding services."
Level One Events hosts and creates beautiful events, unique to each couple.
"Every couple envisions the look and feel of their day. We match their requests with our services, based on taste, style and budget. There's no 'one size fits all' wedding package, because no love is the same.
"We've heard complaints of confusing price structures, too many options and overwhelming correspondence between involved parties. Our straight forward wedding planning is a no-fuss approach, so you can focus on what's important."
Level One provides all or part of the venue, catering, décor and planning, all year round.
"We're here to assist in making magic happen, not breaking the bank – to really enjoy the planning process, right through to 'I do'."
Visit Levelone.nz or pop into level 1/217 Marine Parade, New Brighton.
---