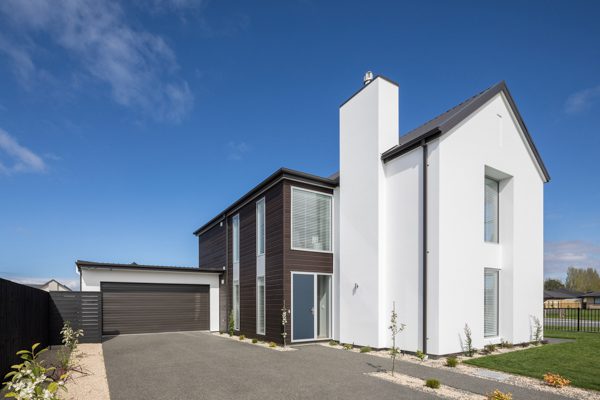 A stage like no other: Mike Greer Homes launches their seriously stylish new showhomes in Prestons Park
Nothing grants a building company the stage to illustrate their flair better than a showhome. The very stylish designs of the two new Mike Greer Homes showhomes in Prestons Park, Marshlands exhibit an endless supply of fabulous ideas that can be implemented into most of the company's home plans.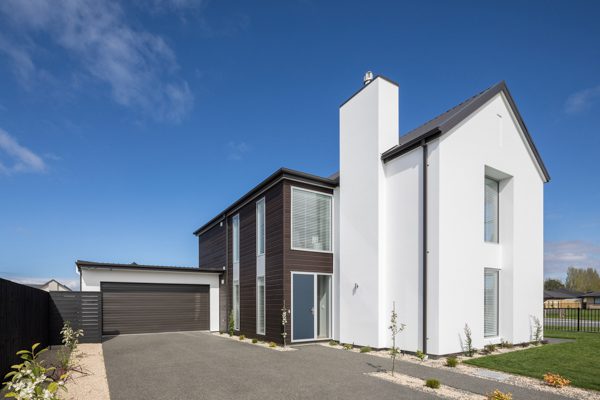 The single-storey home at 21 Prestons Park Drive is impressive. Designed for luxury living, the choice of colours and designer wallpaper is an interior feature that manages to be both bold and subtle, simultaneously. The bathroom is fit for a goddess. The way the shape of the bath complements the shape of the room and window is no accident, nor is the luxurious vibe provided by the marble look tile you notice as you step up to the raised bathing platform.
The kitchen is another focal point, with Velux skylights in the raised ceiling over a waterfall kitchen benchtop. "The kitchens in these showhomes are very high-end and offer inspiration to clients who want to build their absolute dream home," Mike Greer Homes Sales Manager John Callaghan says.
The 226m2 home has three double bedrooms, a family bathroom (that also features the eye-catching Velux skylights), ensuite, office, two living rooms and a double garage – all the space for modern family life.
Next door at number 19, the 275m2 two-storey home is designed to maximise site and sun, featuring four double bedrooms, three bathrooms, internal laundry and double garage. Carefully designed to be spacious without feeling overwhelmingly large, the open plan layout of living spaces creates the heart of the home.
The exterior plaster cladding (Integra Facade System in white) on number 19 was completed by Resene Construction Systems, with the Resene team playing a significant role, given the nature of the project: a two-storey dwelling with over-roof areas and multiple claddings. "The homes look very sharp," Resene Construction Systems National Sales Manager Simon Petrie says.
"The recess plaster features two gable ends, with acute angles and a clean and sleek finish. The contrasting dark cedar shows the best of both products in a fantastic combination. We enjoy working closely with Mike Greer Homes. Their front-line communication is of a very high standard. Their design team and project managers have a wealth of knowledge to ensure a high standard of work is undertaken and met for their clients, meaning our products end up showcased beautifully. We review all details on projects collectively to ensure expectations are exceeded."
The tile supply for both showhomes was done by Garey Burgess of Giovanni Tiles, who works closely with the Mike Greer Homes inhouse colour consultant Haley Cleine. They discuss trends and designs while having a play with new products to see what will work best for each project. "Haley sees the bigger picture, so once she is happy with the concept I work to her vision and provide solutions, sourcing products especially," Garey says.
"I travel internationally personally selecting tiles. Because Mike Greer Homes is my biggest customer I keep them in mind when sourcing product and immediately introduce Haley to the new top of the range tiles that I know work well with their customer base. We have a reciprocal loyalty and I know the entire team. Both companies receive great benefits from our long-term relationship."
Dyers Road ITM supplied the building products and worked with the design team on both projects to ensure they met council criteria and the design briefs. "Our close working relationship with Mike Greer Homes means we are involved in the design process, which in turn leads to higher quality end products," Dyers Road ITM Commercial Sales and Business Development Manager Andrew Reeves says.
"After more than a decade working together, the relationship has flourished to a point where we work not as supplier/client, but as a team – a partnership to achieve high quality homes built in a timely fashion while still meeting the competitive pricing demands of the both the market and individual clients."
These homes feature traditional design methods, as well as new panelised technology, the results of which Andrew is very proud of, his favourite feature being the cedar claddings on both houses. "They are eye-catching and look incredible," he says.
The high-spec kitchen and walk in pantry in number 19 is courtesy of Misco Joinery, which supplied Hafele European hardware with soft close drawers and powder coated handles. "The cabinetry has lasered edges which removes the glue line and makes them very smooth and ultra-watertight," Penny Abell of Misco Joinery says.
"This is a standard measure for all cabinetry we supply to Mike Greer Homes."
A launch party for the Mike Greer Homes sales team and project managers was held at number 19 to introduce them to the new line products from Misco, Hafele Hardware and Grass Componentry Range – such is the depth of knowledge Mike Greer Homes likes the team to have. Penny's favourite part of the kitchen? "The size of the benchtop – all that entertainment space, people seem to be going for larger benchtops more and more," she says.
It is obvious why Mike Greer Homes consistently wins awards at the Master Builder House of the Year: it gets the details right. The company's long-term industry relationships fuel high-quality results and there is synergy on every project. John says of those involved in the project, "They are all fantastic, great quality, service and great installation teams" – and it shows in the finish of these breathtaking homes.
Project Partners