---
Time beaten and earthquake damaged, but with great bones, 'The Bach' just needed the magic of a DJ Hewitt transformation.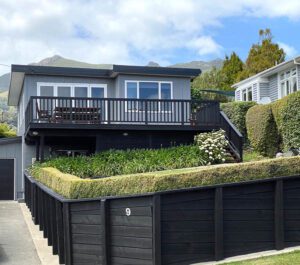 The late 1950s abode above Akaroa harbour was a Christchurch family's holiday pad for 17 years. With the children grown up, it was time for creature comforts and futureproofing.
"We're good friends of Daryl and Tara Hewitt, and trusted them immensely," says Tania Lambley.
"Their brief came with honest and clever advice."
The 130sqm home was to be simple, uncluttered, and practical, using the same footprint to keep within budget.
French doors out to a north-facing deck and slider windows in the kitchen created extra space, light, and the flow of indoor-outdoor bliss.
The old kitchen pantry was divided in two – half becoming a pantry and half a much-needed wardrobe space for the adjacent spare bedroom. Rotting weather boards gave way to a HardieFlex sheet and Axent trim board-and-batten look in charcoal with a blue undertone to soak in the seaside surrounds.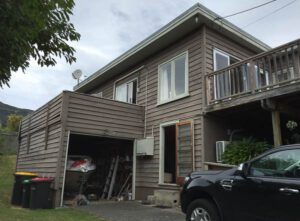 "Daryl really wears his heart on his sleeve for all his clients. He's genuine, and listens, so particular things were done exactly how I needed. He really wanted to make it perfect for us, which was humbling," says Tania.
Tania appreciated with current building supply challenges, that Tara, an interior consultant, ordered plan A and B choices for fitting and fixtures. So there were never any hold-ups.
"There were regular new photo updates. It got quite exciting waiting for them at the end of the week.
"Two builders stayed over and worked Monday to Friday. It was so organised, and ready in six months, in time for Christmas. Everyone including the subcontractors went the extra mile. We have real value for money.
"At the final viewing, it was those finer details you don't expect to be done, which really surprised us."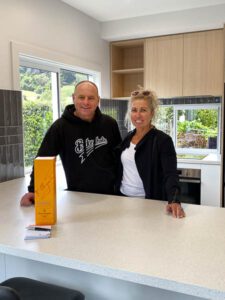 ---