---
When Jackie Hamilton wanted a kitchen refresh, she knew the team to turn to. Our old friend 'word-of mouth' only ever has the one name on its lips, and that is Christchurch's M F Turnbull.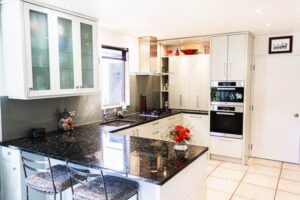 Designed by an award-winner, Jackie's kitchen was still functional and beautiful, but after 16 years of loving use the cabinetry finish had become a little tired.
"I spoke to Steve at Turnbull's; he ran us through the options, and we decided on a double-coated lacquer paint finish," says Jackie. "It brought the kitchen right into 2021 – I could even reuse the handles without any fear of dating the kitchen because the finish is so fresh and contemporary."
The process was easy: Turnbull's team came to the house and removed the cupboard and drawer fronts, while Steve came to the house himself to touch up the small areas that weren't removed to the workshop. "We are really thrilled with it; just can't believe our 16-year-old kitchen looks like it went in yesterday," says Jackie.
Next, Jackie turned to Steve and his team to refurbish her bedroom furniture. "We'd loved it for 40 years, but the time had come for a makeover," says Jackie.
The light faded finish was renewed with a treatment that revived the original colour of the wood and changed its look significantly. "We are so happy with the outcome, it has come up beautifully," she says.
M F Turnbull has been the go-to destination for surfacing in Christchurch for over 30 years now and has always been ahead of the curve with its longstanding reuse, repair, and recycle ethos. Turnbull's has an in-house saying: 'if you think it could be spray-finished, give us a call because it probably can'.
Making-over kitchens by resurfacing cabinetry is hugely popular. "People realise that they don't need to do a full replacement, they can make a radical change, a shade adjustment, or simply freshen the existing colour. They save themselves money, and of course volume going to landfill," says Monique Turnbull.
Resurfacing old furniture is a favourite with the team. A client will bring in an unusual piece; it might have lovely proportions and be beautifully made, but the appearance no longer suits.
Refinished, the piece can anchor a new interior design scheme. Upholstered items with timber parts can be resurfaced and then the piece can be taken to your upholsterer for recovering.
As well as falling in love with a resurfaced kitchen or furniture item, Turnbull's makes the job so easy.
"A great strength of the M F Turnbull team is its ability to communicate," says Jackie, "they tell you exactly when they are coming – they are excellent that way – and if they get held up, they keep you in the loop for that too."
M F Turnbull is open from 7.30am to 4pm Monday to Friday. Visit them or phone (03) 365 2519 to discuss your refresh!
---