---
We're slowly getting back into the swing of things post-lockdown, so why not add some stylish new pieces to your work wardrobe? We've pulled together some of our favourite things in office wear for 2020 for inspiration.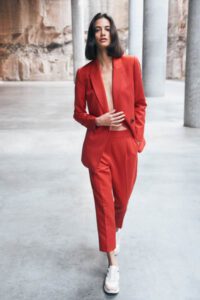 POWER UP: Black and grey are no longer top of the power suit hierarchy; they've been pushed out of the top spot by the statement suit! We're talking animal print, floral and punchy block colours. We're also loving that you can wear this clever style chameleon in three different ways – make it a twin thing and wear it as a co-ord, or wear the jacket and pants separately.
SILKY SMOOTH: Nobody wants tight skirts or pants that cause discomfort during work hours. You won't regret transitioning to a silky slip skirt that bounces with your legs when you walk. Like the power suit, one signature skirt is all that is required to create multiple different looks.
A DRESS FOR ALL WEATHER: Sweater dresses are a nice and easy option for the workplace, especially if you're in a rush in the morning. They're also great for those awkward days where it's cold in the morning but hot when you leave for the day.
---