---
Stylish, sleek, modern – these are adjectives applicable to many a new kitchen, but few can claim the title of sheer beauty. Designer for Murray Hewitt Joinery, Donna Weir has created a new kitchen of such loveliness it is difficult not to stare.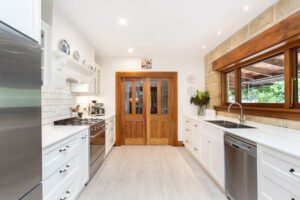 The Clarkville homestead is mud brick construction with deep eaves, so it was important to retain a simplicity that complemented rather than clashed with the exterior wall.
The design of the galley-style space was driven by the clients' wish to have a pantry. Rather than simply renovate, Donna re-planned the space, to utilise an area where a family dining table once stood.
Adding a wall to make the pantry, Donna then created access from the kitchen directly to the previously underused formal dining room.
Murray Hewitt Joinery did the new timber French doors to the dining room in a traditional style, but they are deceptively slick – cavity sliders to save space.
The architraves were manufactured to fit with the existing architraving in the house.
The benchtops are in engineered stone Archant Virginia, while the cupboard fronts are in a satin lacquered finish of Resene Quarter Thorndon Cream.
Handles are porcelain and black and come from Tradco, while the Provence tap came from In Residence.
"The original U-shaped layout with black benchtop felt claustrophobic and visitors are blown away by the change," Donna says.
"The client loves the light brightness, the range of practical storage and that it's entirely in keeping with the house's character – it really looks like it belongs."
---