---
Growcott Freer Property is a New Zealand-owned urban property development company, providing both prospective investors and homeowners the chance to own a brand-new property in some of Christchurch's most sought-after neighbourhoods.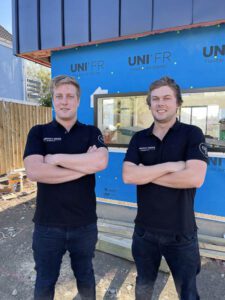 Directors Nicholas Growcott and Isaac Freer personally oversee every project, partnering with some of the biggest names in the industry to ensure the design, craftsmanship, liveability and overall building experience is perfect from conception to completion.
What makes Growcott Freer Property stand out from the crowd? Isaac explains: "We work very closely with our designer, Sam Connell of Connell Architecture.
His creative eye produces such a high-end design product at an extremely completive price point for our clients." He adds that a key element is obviously the architectural design of the company's town houses and the strong emphasis on liveability, such as garaging and off-street parking, high spec finishes in the interior spaces etc. "It's these little things that really make you want to call one of our developments home."
While Growcott Freer Property was officially established in 2018, it had been growing silently for years prior.
Nicholas, a builder with over a decade of experience under his belt, building arguably some of Christchurch's top homes, and Isaac, an electrician, also with over 10 years' experience working in a large Christchurch company, had completed many residential projects outside of their 40-hour working weeks.
This experience taught them hard work and allowed them some of the capital to create what is now Growcott Freer Property.
Current projects include three city developments of 35 townhouses which are all well under way.
"All of the townhouses sold out as soon as they were released to the market, a great testament to the level of design and price point which is so important to us," says Nicholas.
Another development of 19 townhouses will hit the market in July with construction to start during the last quarter of 2021.
"We have no doubt our clients are going to love these!" he adds.
A strong team ethos is the essence of Growcott Freer as a company and what sets it above the rest. Nicholas and Isaac are backed up by their outstanding Site Manager Sam Johnston.
Their trade backgrounds mean they have forged lengthy personal and professional relationships with their contractors, some, such as Alex from YP Plumbing, dating back 20 years.
"These relationships have allowed us to rely on contractors to meet, and exceed deadlines and deliver the absolute best product or service for our developments," says Nicholas. "You can keep an eye on what we are doing on Instagram or our website."
---