---
A great outdoor play area encourages the growth of young minds.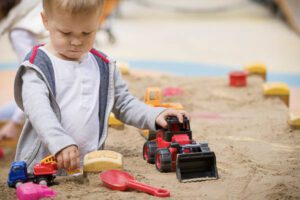 Carl Gildea of Willow Landscapes has drawn creative inspiration from his own young family, to install adventure into Kiwi backyards.
Lockdowns, logistics and working remotely has sparked a trend for home playgrounds, where it's easy to oversee the kids having the time of their lives.
Carl digs a challenge, especially going way out with sandpits, creating real environments like getting muddy amongst the Tonka trucks. Hill sections are even a palatte for play for Carl, who can transform any slope.
He says upcycling can be more fun than new – from pipes to tyres, for swinging, crawling and climbing. He finds children love inventing and planning with him, and really engage in the finished project.
This English masonry expert carved out his career repaving the cobblestones of London, but calls Canterbury his home, who can integrate the inbuilt barbie area with the playground. Landscaped spa pool areas are also making a family splash.
Time just flies when you're having fun, but Carl can repurpose the sandpit to a trampoline pad, or the Wendy house into a teenage she-shed.
And always securing safety with adventure, his team are on the pulse with regulations and advice.
For inspiration, find Willow Landscapes on Facebook or visit the website.
---