---
Urban tree plantings have been found to improve people's mental and physical health, improve air quality, conserve water, preserve soil, and support wildlife.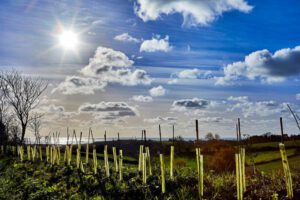 Ricoh is a company committed to the environment and actively involved with planting thousands of urban native trees through its annual Big Green Day Out. This year's
plant-a-thon helped beautify Cranford Basin.
Duane Smithson, Christchurch branch manager, says the day was an amazing success.
"Staff volunteered their time to don gumboots, pick up spades and plant trees, assisted by their families, supporting organisations and of course our beloved Crusaders. It was a great opportunity to help shape and grow the new Northern Corridor of Christchurch."
Ricoh helps plant thousands of native trees annually throughout New Zealand.
The environment and sustainability are among the company's core values and it practises what it preaches.
"A sustainable society is one that balances planet (the environment), people (society) and prosperity (our economic activities)," says Duane.
"Whether that's through improving our own business efficiencies, providing recycling for our machines and toners, supporting organisations championing green policies, or planting thousands of trees annually, we aim to lead businesses in being sustainable."
---