---
Law truly is an awesome profession! So says litigator Charlotte Houghton, a new partner at Anderson Lloyd.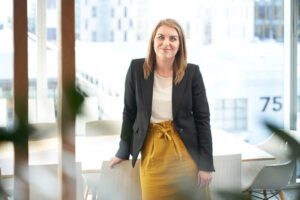 A member of the firm's Christchurch-based litigation team, Charlotte recently became a partner shortly after a 12-month parental leave break with her second son.
Her promotion (together with the appointment of three other female partners in 2021) puts Anderson Lloyd ahead, having the highest proportion of female equity partners of any large law firm in New Zealand.
Her expertise is in contentious personal and corporate insolvency disputes, debt recovery and security enforcement. "I also advise on complex commercial disputes including disputes between directors, shareholders and trustees and disputes in relation to construction contracts."
A favourite aspect of her job is the opportunity to become an expert in areas that she may not otherwise have been exposed to.
"In big litigation files you often get to dive down into the detail of industries other than the law. For example, I have learnt a lot about farming, mining, construction and so many other things.
"Another facet I enjoy is building relationships with clients. One of our values at Anderson Lloyd is to 'keep it real' which is about being authentic to the core and forming deep relationships. This is a value that resonates with me as I think we are in a position of privilege when it comes to representing our clients.
"No one is particularly happy when they have to contact their litigation lawyer; they are stressed and often in very difficult situations, which we get to help them through (and I love that). I love helping people and it allows me to draw on my psychology background as well."
Charlotte initially graduated university with a Bachelor of Arts degree, majoring in psychology and education.
Approaching the end of her degree, she was drawn to part of a psychology paper about the legal obligations on psychologists (around disclosure and the duty of confidentiality).
"I found myself more interested in that than anything else I had studied. As I had already completed one degree, I was able to do first year law and part of second year law concurrently. I have never regretted that decision to follow my gut and study law."
She's happy to encourage others into law, although she adds that it should be for the right reasons. "It can be a hard profession to work in.
Our clients often find disputes stressful and there can be tense moments. But helping them through that is very rewarding and as the saying goes: 'if you love what you do, you'll never work a day in your life'."
Now Charlotte's looking forward to building, expanding and strengthening her own practice and the firm's litigation practice together with her litigation partners in Christchurch, Queenstown and Dunedin.
Add to that raising "two good wee men" and running a few half marathons and that sums up her bucket list for the next few years.
---