---
Tucked away on the hillside, the Sumner Hillside Residence is positioned so that every room has a view of the ocean.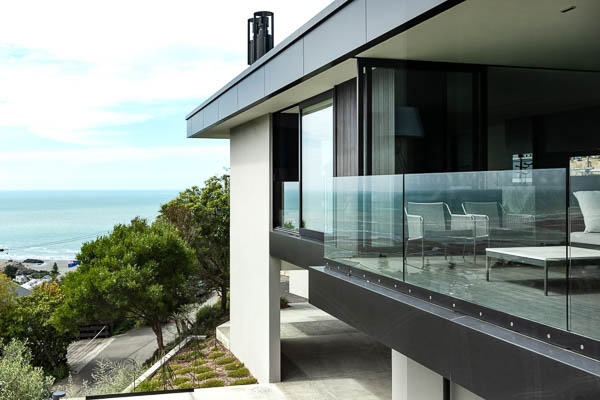 The views from this home have been carefully considered with its northwest orientation and floor-to-ceiling windows capturing a view that spans Sumner Beach, the Kaikoura Ranges, and New Brighton Pier; the scenery from the different vantage points is spectacular. Sometimes a challenging medium – such as this steep and complex building site – yields the best results when joined with the right talent.
Architect Regan Johnston designed the home to meet the owner's changing needs, with the perceptive layout future-proofing the home by prioritising a family-friendly environment.Johnston Architects upholds a practice of holistic sustainability. As a result of its orientation, location and construction, the home stays at a comfortable temperature throughout the year with little heating or cooling. Other sustainability measures include the installation of LED lighting, window blinds, fireplace, electric under tile and ducted air-conditioning; all are wi-fi controllable and programmable for maximum efficiency.
Working as an architect for eighteen years, Regan is often acknowledged and awarded for his designs. This year alone, three of his firm's projects throughout New Zealand were shortlisted for NZIA awards – including the Sumner Hillside Residence. The benefit of working with this award-winning firm is that clients work alongside the design architect to achieve their overall vision.
Contact Johnston Architects on 03 326 6688 or email info@johnstonarchitects.co.nz.
PROJECT PARTNERS
Simon Devitt
International Photographer of Architecture
Phone 021 680 959
www.simondevitt.com

---