---
Our shaky recent history has tested our taste for the concept of the Romantic Ruin, an idea that has gripped the arts since the eighteenth century. The frisson once provided by a building that had seen another era's hopes and dreams for the future, is replaced by the more prosaic thought, 'is that going to fall on my head?'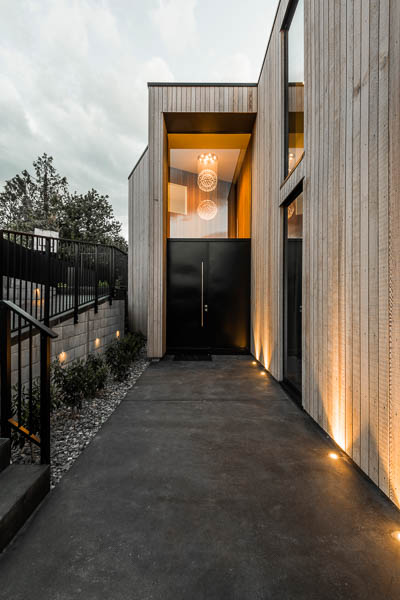 Happily, Colab Architecture's Tobin Smith and Blair Paterson's bilateral design for 'House on a Ruin' captures both a hankering for the past and the thirst for the new, and once again shows they are taking their rightful place in the canon of the 'Christchurch School' in architectural design.
The house marries its comfortably bourgeois history with the relentless approach of the oncoming in a striking yet approachable way. The New Zealand Institute of Architects has endorsed their vision by shortlisting 'House on a Ruin' for the Canterbury Branch Awards.
While its gaze is fixed on the panoramic horizon of the future, the design literally plants its roots in the past.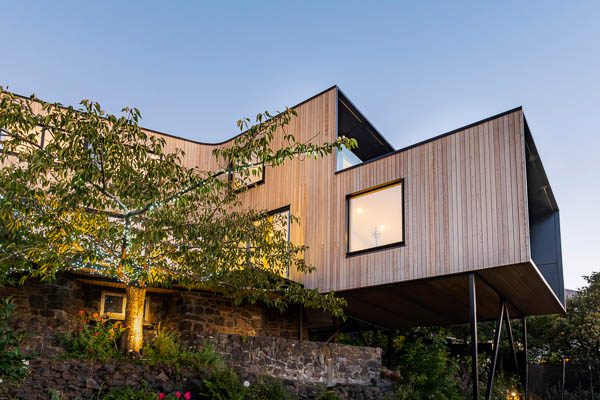 The home is solid on the Halswell stone foundations drawn up by Samuel Hurst Seager C.B.E., a child of the Romantic era of revivalist-style architecture. Tobin and Blair skilfully take up the baton passed to them, designing a contemporary family home grounded on the stone cellars, wrapping itself complete with deck around the 100 year-old cherry tree and descending in tiers to the existing swimming pool.
With a background in engineering, the client has allowed Tobin and Blair to be adventurous. The living area cantilevers the stone cellars, mesmerisingly perching on slim steel stilts. From the east, the house presents as a solid two-storied cedar clad form, while from the west the house opens to views and sunlight, floating lightly over the ground below. Clad in bleached cedar accented with dark aluminium panels, the internal corners are softened to a surprising and subtle radius.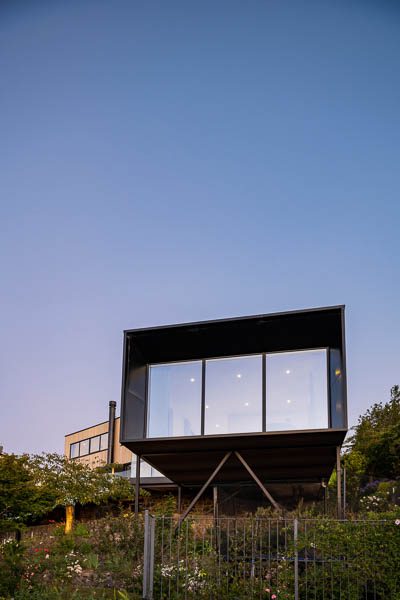 Engineered to 200 percent of code, the interior is flexible to allow for family life, with spaces that can be shut off either side of the main living area. High ceilings and skylights promote elegant airiness, while a subtle mirror tint to the windows prevents too much solar gain. A celebration of old and new, and a hugely satisfying progression of architectural distinction, House on a Ruin is a home moving with the times.
---