---
Tūranga is set to become alive with the sound of music when the New Zealand Opera's critically acclaimed Eight Songs for a Mad King comes to town.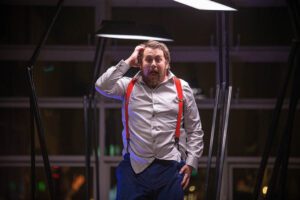 The rescheduled season is positioned for December 3, 5 and 6 at the Cathedral Square library, where audiences will be treated to the highly regarded performance.
Eight Songs for a Mad King explores the complicated relationship between mental health and power. This rendition reimagines Maxwell Davies' king as a corporate everyman.
This concept is reinforced by a double performance that will see audiences, split into two groups of 50, experience the work once inside and up-close to the performer, and once outside listening through headphones.
South Island Baritone Robert Tucker is pushed to the very limits of a singer's endurance as he sings across five octaves, accompanied by Stroma New Music Ensemble, conducted by Hamish McKeich.
It is directed by Thomas de Mallet Burgess and designed by Robin Rawstorne. Tickets are onsale now as part of New Zealand Opera subscription packages or as standalone tickets on sale at www.nzopera.com.
---