---
Celebrating 25 years in business building outstanding houses, DJ Hewitt is thrilled to enter a superlative home in the 2019 Master Builders House of the Year regional competition in the category: House over $2 million. Having taking a sabbatical from House of the Year entries for almost a decade, this stunning entry brings DJ Hewitt to the forefront of competition once again.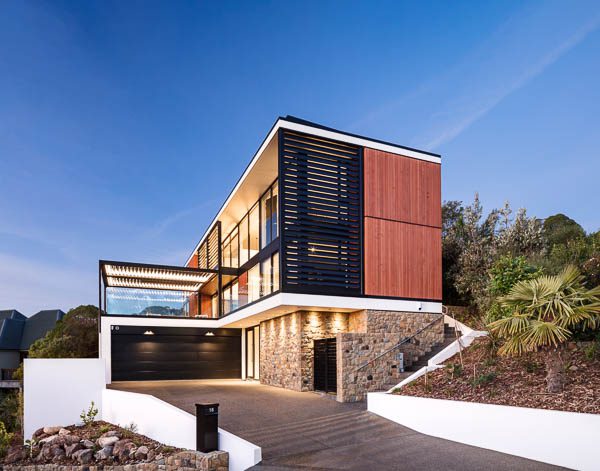 Anchored into the hill high above McCormacks Bay, this is a house with everything: views for inspiration, volcanic rock for grounding, steel for strength, glass for insight and cladding in cedar wood for dreams. Its impeccable dimensions by O'Neil Architecture draw the gaze and hold it: the flat roof combined with the deep-set eaves, the geometric pattern of the black window framing, the snappy white surround to the second and third stories, volcanic rock cladding the ground floor and warm cedar above. It makes for a pleasing and harmonious whole: looking at this house could become addictive.
The stunning home was a 20-month build that saw the tight-knit team overcome all the challenges associated with the hill site, as well as everything that mother nature had to throw at them. For Director Daryl Hewitt, the whole project is a stand out, "for its placement on the site, its architectural merit, its design and flow, the materials used – all the boxes are ticked".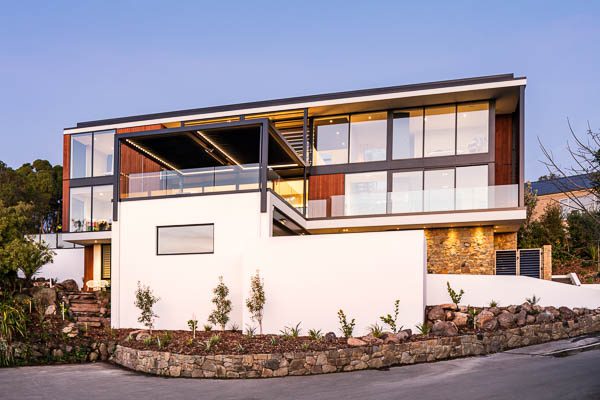 At three stories it is an impressive home as you look up from the causeway and, once on site, the commanding 220-degree view takes you to another world. The panorama of the Kaikoura ranges around to the Heathcote Valley constantly feeds the soul with a palette of changing light and seasons. DJ Hewitt has been working with Fox Surveyors for years. "We always get them to set out our homes, they are professional and helpful," Daryl says.
There are four forms of cladding on the house – cedar planking, adjustable steel louvres by LouvreTec, Rockcote, and the local volcanic stone which is continued into landscaping and retaining walls, specially laid to resemble the dry stonewalling technique of interlocking stones, any mortar used barely visible.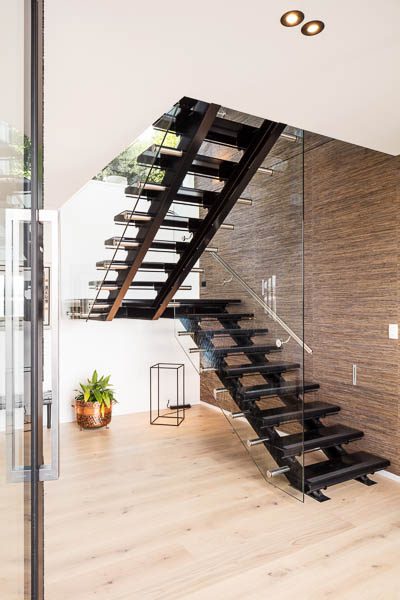 The double glazed and laminated aluminium framed windows from the Vantage Metro Series were manufactured and installed by Hagley Windows and Doors, while the spacious deck in Innowood, a sustainable alternative to timber, is protected from prevailing winds by Glassforce structural frameless balustrading held with spider brackets, which is also used for the full height of two levels up the stairway, to stunning effect.
The sleek interior feels band-box fresh in a neutral palette, with a luxurious range of textures chosen by the owners in conjunction with interior co-ordinator Tara Hewitt. A hotel-style lift to accommodate six is paired with the steel and glass staircase, an art installation in its own right. Systems within the house are all fully automated and can be controlled from a smart phone.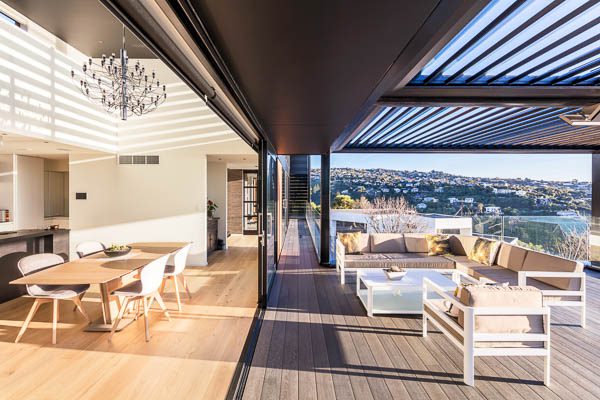 The wine cellar occupies the bottom level of the house along with a spacious storage area, accessed through a secret door. Engineered by Powell Fenwick, the house is set into the hillside and sits on a complex foundation of steel and concrete approaching commercial levels. "It is a very strong home," Daryl says.
Happy owners of the house Russell and Mary love the whole thing. "We love the wine cellar, the stair well, the orientation and layout that takes full advantage of the view." Russell was hands-on in the wine cellar design. "It is the ideal spot for a wine cellar – it is naturally cool down there but actually it is mainly a whisky display," Russell says, "not because I am a particular whisky aficionado, it is more in homage to Scottish ancestry".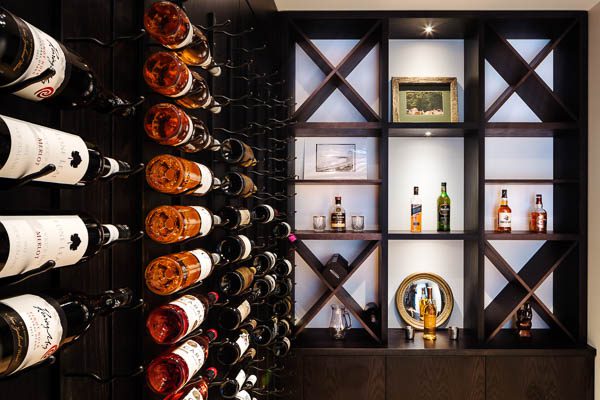 Mary and Russell chose Daryl and his team to bring their vision to life because they had visited a DJ Hewitt show home "which stood out to us as so well designed and immaculately finished". They had also got to know Daryl on the local dog-walking circuit, and of course were aware of DJ Hewitt's unrivalled reputation as a specialist hill builder.
"It was wonderful to have the help of Tara Hewitt's interior design skills as a part of the wrap-around, start to finish service we received," Russell says. "It was Tara and Daryl's idea to paint the ceiling black above the full-height void which contains our kitchen, living, dining and gallery. We are thrilled with how it looks, it's just fantastic and Tara's help with things like the wallpaper selections was invaluable."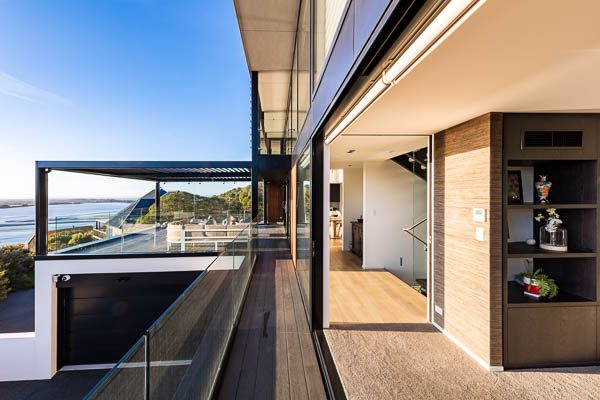 Mary and Russell lived on this site in a previous home so were well aware of its challenges and advantages, as well as where best to capture the views. "Both designer and builders' attention to detail has been amazing, and we've become friends with the team; they are really great people."
"Every house we build sticks in my mind – any house you have great clients, working closely to fulfil a dream," Daryl says. However, this house is very special. Daryl particularly loves the lift – they are becoming more popular in private homes – as well as the full-height void with its signature black ceiling and the automated louvres on the walls and roof.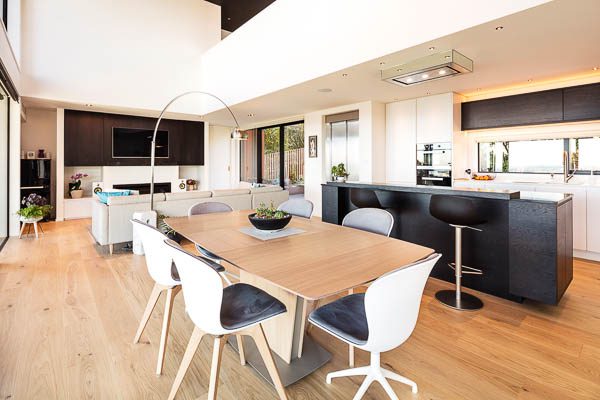 Specialist hill and architectural builders, new projects come to DJ Hewitt through word of mouth and architects' request. "The truth is that houses don't have to be large to be good. Often these days we are building more compact homes which follow the movement to being very thermally efficient, although all our homes have been insulated to above the code, ever since I've been in business."
Constantly busy building dream homes with several architectural projects on the go at any given moment, DJ Hewitt found time to celebrate their 25 years of business with an awards night held at Hagley Windows and Doors with All Blacks motivational speaker Gilbert Enoka addressing attendees. Highly valued subtrades that have worked for DJ Hewitt for 25, 20, 15 or 10 years received appreciation awards.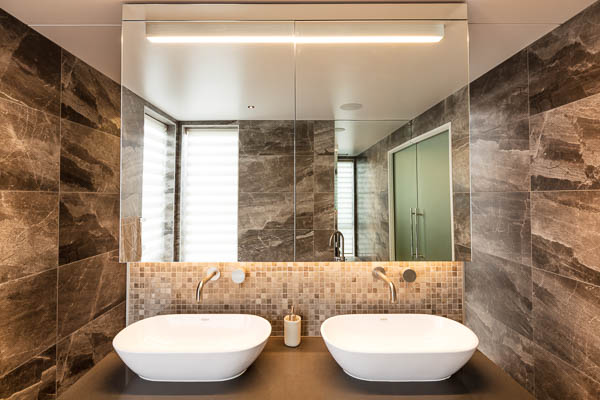 "We are like a big family," Daryl says. "Everyone knows what to do and we turn out fabulous homes for great clients."
---