---
If you happen to wander through the city along the Avon River anytime this summer, and marvel at the length, breadth and beauty of the tiled walkway beneath your feet, cast a thankful thought to Dragonstone Paving for helping make Ōtautahi Christchurch beautiful again.
Operations Director Lee Squires heads this dedicated team of highly skilled stonemasons whose paving experience and expertise raises bespoke tiling to a level that can only be described as an artform.
Civil projects, such as the Avon Precinct, the pathway and barbecue area at the Margaret Mahy playground, Rangiora's High Street and Kaiapoi Riverbank walkway are but a few examples of the awe-inspiring work produced in Christchurch and throughout Canterbury.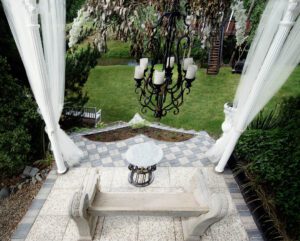 As are the many commercial projects of roundabouts, carparks and public walkways, and residential projects, such as driveways, gardens, pools, and barbecue and patio areas, that all bear the distinctive artistic hallmark of Dragonstone Paving.
Lee's artistic and creative eye is the invaluable tool that brings it all together – his advice and suggestions as to paver type and design is key to the stunning results that go way beyond client expectations.
Like the River Willow garden in Fernside, part of 2020's prestigious Fernside Garden Tour, where Lee has brought a client's vision into reality. River Willow makes a beautiful setting for wedding photography.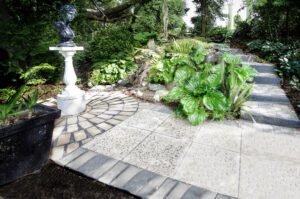 Dragonstone Paving have a free quote form on the website, and for ultimate inspiration follow Dragonstone Paving Ltd on Facebook.
---