---
Nothing is more life affirming in chilly autumn weather than tummy-warming food, and JoAnne Fryer and her team at Gorgeous Food know just what hungry customers want to get them through their day.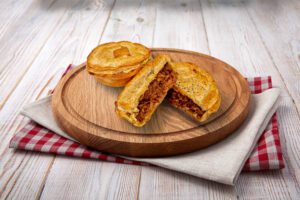 The retail shop is situated right next door to the bakery, and every morning the kitchen's fair buzzing with activity as pies, sausage rolls, savouries and scrumptious quiches are handmade by bakers passionate about delivering exceptional food.
These delectable pastries are also available cold, so feeding those hungry troops at home as they come marching through the door is taken care of.
Soup is another autumn through winter favourite, and the shop offers a tempting range of hot homestyle soup, (or cold to take home and heat up) that hits all the right spots, while providing excellent nourishment.
Should filled paninis, bagels or ciabatta be more to your taste, ramp up the satisfaction factor by ordering them toasted. Heaven!
For commuters on the run looking for that early morn fix, text ahead for a Vivace coffee, or whatever hot beverage your body craves.
Gorgeous Food also caters for breakfasts, morning teas, lunches and special occasions.
You will find it at 66-68 Springs Road, Hornby. Phone the catering kitchen on (03) 344 6044, text 027 344 6045, or email gorgeousfood@xtra.co.nz to place your order.
---