---
Cuisine, hospitality and comfort Greek style are what brings diners back to The Athens Yacht Club time after time. In Greek culture, food is so much more than sustenance, and the same applies to this family-oriented central city restaurant which prides itself on offering an authentic Mediterranean experience.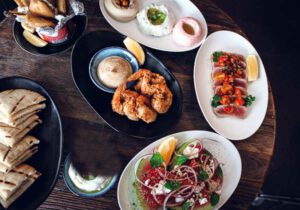 Owners Emilios and Rebecca Kotzikas want diners to feel like they are in Greece, enjoying a joyous family dinner, celebrating life with good food, and learning about the true tastes of the country.
"It is about culture, comfort, family and life itself. We bring you the total Greek experience with authenticity being our top priority. Real Greek food from the heart. It's about hospitality, good staff, service and traditional recipes dating back hundreds of years," says Emilios.
Open seven nights from 5pm until late, the restaurant offers a seasonal menu, using mainly local ingredients to produce traditional Greek dishes. Head chef Lawrence Harvey (aka Loz) is passionate about his culinary creations, and to ensure authenticity, Emilios' aunties and cousins regularly help to "fine-tune" the flavours.
"What we offer is as close as possible to a Sunday family meal in Greece."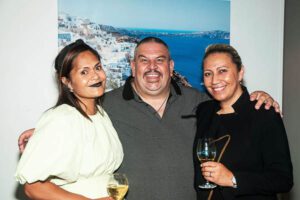 Aside from the owners and the head chef, there are two additional chefs, two kitchen hands, a general manager, restaurant manager and seven front-of-house staff.
General manager Anne Foucque-Patelesio enjoys being part of such a large welcoming family. "Everyone from the owners, the kitchen staff and front of house staff; we're one big Greek family," she smiles.
Diners also become part of the family, enjoying the atmosphere, the service and most of all the cuisine. "The food is very Greek-inspired, and the portions are all very generous," explains Anne. "No-one ever leaves unsatisfied or hungry."
Her current favourite menu items include slow roasted pork and crackle with pourgouri (bulgur wheat pilaf), parsley, grape and walnut dressing, croquettes with a traditional spicy cheese dip known as tyrokafteri, and for dessert bougatsa – a custard-filled pastry with apple compote, cinnamon and vanilla bean ice-cream.
If those do not tempt you there are lots of other mouth-watering options. The Athens Yacht Club promises "Greek food fit for the gods" and it delivers with the best quality ingredients and tantalising creations.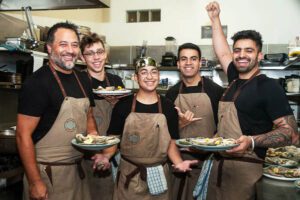 The décor is fresh yacht club-inspired, and the menu includes many well-known Mediterranean favourites. Imagine succulent crispy tiger prawns or stuffed grape leaves with pork, rice, tomato, herbs and yoghurt, combinations featuring tzatziki, taramosalata and tyrokafteri, Saganaki (flamed cheese), grilled broccolini, baked eggplant, seared yellowfin tuna, Greek meatballs, flash-fried calamari, slow cooked lamb shoulder, chargrilled steak, fresh seafood options and those are just a few.
The desserts sound divine, from frozen parfait with chocolate mousse, caramelised almonds, chocolate sauce, to traditional baklava, and amazing loukamades or Greek doughnuts with toppings of honey, olive oil biscuit crumbs and vanilla bean ice cream or salted caramel sauce, caramel ice cream, pistachios. Yummy! Can't decide? Try a dessert platter with some of everything on it.
Word is spreading so bookings are essential.
"The best compliment we can get is when we have repeat customers," says Emilios. "People come in wanting to try the food and experience the atmosphere, and when they come back, again and again, well, what more could we ask for. It is so wonderful to have a job where we can put a smile on people's faces."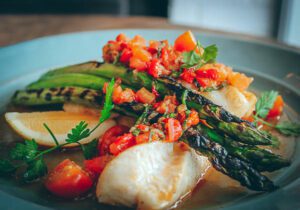 ---