---
Well hello, possums! If you've got a party or an event on your mind, there's no better spot to book than the function room at Two Fat Possums in West Melton village.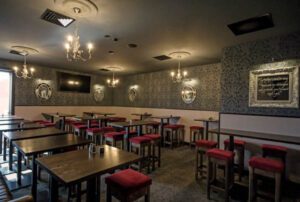 A favourite haven for locals and a destination for those craving great food in a relaxed and welcoming milieu, the catering team ensures every occasion is a delicious success.
The function room seats from 30 to 45 people, and is an ideal spot for pre-wedding dinners, smaller weddings, birthday parties, corporate events, fundraisers and quiz nights.
There are set menus available, or the talented team is thrilled to work with you to design bespoke cuisine.
Casual dining of pizzas, platters and nibbles is available, or three-course served meals can be tailored to suit your budget.
The Restaurant Manager says, "Our chef is excellent and loves to cover the range from woodfired pizzas or gourmet burgers, right through to high-end dining, where we will bring in ingredients specially requested by our clients".
Promising good times, good food and good people, Two Fat Possums is the home of very contented Kiwis.
---