---
Timber's benefits make for a lengthy list – spanning both form and function and, while its longevity of use speaks of its function, it's the NZ Wood Resene 2020 Timber Design Awards that speak of its form.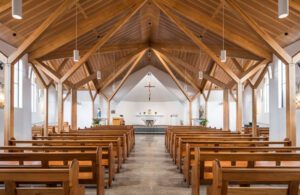 The Level 4 COVID-19 lockdown may have put paid to the celebratory event for the highly-acclaimed, annual showcase of the innovative, structural and aesthetic use of timber, but local winners of this prestigious event have been announced.
Haus Expresso (Dalman Architects), Arvida Living Well Park Lane (Jasmax), St Patricks Church (WSP Opus), CSO Centre, Christchurch Town Hall – Ron Ball Studio (Warren & Mahoney), Boat Shed – Lyttelton (Christchurch City Council), Farmers Corner Pavilion Ashburton (PTL Consultants) and the James Hay Theatre Timber Floor – Christchurch Town Hall (Timbers of NZ) are just some of the exceptional local projects to receive awards this year.
St Patricks Church (pictured) offers a stunning example of how structural timber elements can be expressed as the main architectural feature of a building.
Utilising New Zealand grown radiata pine with a clear coat finish, the timber creates a warm feel for the 250 square metre church.
The Lincoln project by WSP Opus was the winner of a new category – Public Design.
It was also the proud winner of an Interior Architecture award in the NZIA's 2020 Canterbury Architecture Awards (page 79).
"Once again, the quality of entries is exceptional," judges agree.
"More and more novel, innovative applications of timber are submitted every year. The quality, design, materials and build philosophies employed demonstrate the evolving and imaginative use of timber in New Zealand and indeed, around the world."
---