---
Joe Jagusch launched Aotearoa's first through-city paddle float experience on the Avon River/Ōtākaro in October 2020. Since then, Airborn Paddling has been offering a unique perspective of the river and its surroundings.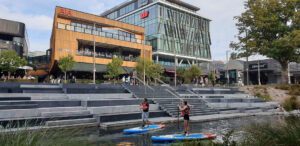 Joe says watching Ōtākaro's natural state springing into new life from recent plantings along its banks is inspiring and his dream is to share this with more Cantabrians.
He says the river is the life-blood of the city and there's so much to learn from Ōtākaro. "And paddle boarding is a great way to tighten the body and free the mind from the grind!"
Airborn Paddling has a range of paddling choices – upstream and downstream. "The Avon/Ōtākaro moves very slowly, so this enables upriver paddling".
Inflatable boards are the simplest craft to get on and off, they're light to carry and you won't end up sitting in a pool of water from a dripping paddle blade.
Joe has big plans for the future of Airborn Paddling. How about a warm up in a portable sauna after your winter paddle?
There's a range of trip options, including one called the Eels' Pathway – a trip that takes over an hour. Find out more about that one and all the others at the website below.
---